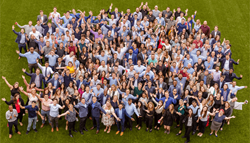 We are incredibly honored to be recognized for continued growth for the second consecutive year by Consulting Magazine
TAMPA, Fla. (PRWEB) December 16, 2020
Consulting Magazine revealed that A-LIGN, a high-growth security and compliance partner that combines industry-leading expertise and innovative technology to accelerate audits, consolidate compliance projects, and drive new revenue, ranked #10 for the second consecutive year on its list of fastest-growing firms in 2020. Consulting Magazine recognizes the most successful companies in the industry based on three-year revenue growth and highlights the unique drivers for their financial success.
"We are incredibly honored to be recognized for continued growth for the second consecutive year by Consulting Magazine," said Scott Price, Chief Executive Officer at A-LIGN. "Compliance remains a top priority for organizations as customers and partners need assurance that security and privacy controls are robust, and their data will be protected. By demonstrating compliance, our clients scale their businesses faster. A-LIGN's innovative technology and nearly 350 professionals have helped us serve our 2,500 clients worldwide, and our ability to sustain rapid growth and rank as a fastest-growing firm again is a testament to A-LIGN's resiliency and commitment to our clients."
A-LIGN experienced 243 percent growth from 2016 to 2019. Just this year, A-LIGN was recognized on Inc 5000's national list of fastest-growing private companies for four consecutive years, Inc 5000's inaugural list of fastest-growing private companies in Florida and Tampa Bay Business Journal's Fast 50.
A-LIGN attributes its sustained growth to a commitment to innovate and adapt in order to continue serving clients in a remote world. Created with an emphasis on the end-user and on client feedback, A-LIGN launched its proprietary compliance management platform, A-SCEND 2.0, earlier this year. Designed to complement the human element of compliance, A-SCEND streamlines the audit process by centralizing evidence collection, standardizing compliance requests, and consolidating audits. This results in minimized expenses and improved productivity of required resources for compliance management.
A-LIGN continues to serve its clients and their diverse compliance needs through its many service offerings, and most recently became one of the first ANAB-accredited ISO 27701 certification bodies this year. The company is expected to grow even more rapidly in the coming years as it secures its name as a leading security and compliance partner in the industry.
This year's Fastest Growing Firms will be published in the December issue of Consulting Magazine.
###
About A-LIGN
A-LIGN is a technology-enabled security and compliance partner trusted by more than 2,500 global organizations to help mitigate cybersecurity risks. A-LIGN uniquely delivers a single-provider approach as a HITRUST CSF Assessor firm, Qualified Security Assessor Company, accredited ISO 27001, ISO 27701 and ISO 22301 Certification Body, accredited FedRAMP 3PAO, Certified CSA STAR Assessor and licensed CPA firm. Working with small- and mid-sized businesses and global enterprises, A-LIGN experts and its proprietary compliance management platform, A-SCEND, are transforming the compliance experience enabling an anytime, anywhere approach to audits. For more information, visit http://www.A-LIGN.com.
Media Contact
Kat Lewis
Senior Manager of Corporate Communications
(888) 702-5446 x 445
kat.lewis@a-lign.com