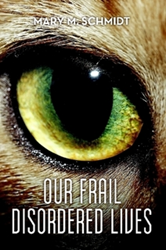 BALTIMORE (PRWEB) December 12, 2018
Mary M. Schmidt returns to the literary limelight with the release of a novel that offers a spin-off of Dante Alighieri's "Inferno." In "Our Frail Disordered Lives" (published by Lulu), Roach, the minor demon is resentful since he was not included in Dante's Inferno. He decides to infest a family to prove he is just as evil as any major demon.
Larry Kavanaugh is an ordinary kind of guy. He has a nagging wife and two kids, both annoyingly gifted. No matter what he does, there is no end to what his family needs. What could a regular, everyday family guy do? Well, he cuts a few corners, obviously — one very big corner in particular. He sells his soul to the Devil.
Maybe it is not the actual Devil, but Larry is ready to make a deal with one of the Devil's minions. He meets some demon whose name he cannot remember. Roach the Demon has sort of good intentions. He just wants a rewrite of Dante's "Inferno" with himself as the star.
Roach goes after Larry as a rogue operation. He needs to make a point to his boss, Satan, so he uses the body of a human to follow Larry around and stir up trouble. He offers Larry an airtight guarantee that nothing could possibly go wrong. After all, Larry does not feel like he has much to lose — or does he? Even Roach might be in over his head this time.
"Our Frail Disordered Lives" touches on demonology, exorcism and the seven deadly sins. With it, Schmidt takes readers to the world of supernatural, reminding them that "there are other dimensions around us, and just because we can't see them, they are nonetheless real."
To purchase a copy and know more about the book, visit https://www.amazon.com/Frail-Disordered-Lives-Mary-Schmidt/dp/1483485102.
"Our Frail Disordered Lives"
By Mary M. Schmidt
Softcover | 6 x 9in | 202 pages | ISBN 9781483485102
E-Book | 202 pages | ISBN 9781483485096
Available at Amazon and Barnes & Noble
About the Author
Mary M. Schmidt is a graduate of Notre Dame University in Baltimore. She spent time in Rome during the '60s, getting to know the feral cats. Her previous book, "Cat Lady," is about that experience. "Cat Lady" won the Jaffalogue's Picks award for best long narrative published in 2015. Apart from this, she also authored "Persephone's Song" (published in 1992). Schmidt works for a local hospice doing transitions, that is, assisting terminal patients with their end of life procedure. She makes her home near Annapolis with her cat, Graycie.
Lulu empowers people of all ages to explore and express their interests, passions and expertise through books, photography and art. Since introducing self-publishing in 2002, Lulu has empowered creators in more than 225 countries and territories to produce nearly two million publications. Lulu Jr. allows children to become published authors, encouraging creativity, strengthening literacy and building self-esteem. Picture.com offers professional photography of collegiate and professional sports, memorable and historic events, fine art and home décor. For more information, please visit lulu.com.