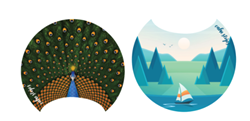 Now and in the future, the Calm Strips commitment is always on customer service.
NEWPORT NEWS, Va. (PRWEB) May 11, 2021
Calm Strips has launched its new line of circle textured sensory adhesives made from a thin but extremely hardy and durable vinyl. These sensory adhesives may look like an ordinary sticker, but were crafted to help soothe anxiety and fidgeting by grounding an individual in a calming scene and using a rough, but soft, surface as a stimulus.
The reusable, residue-free adhesive is designed with a 1.5 crescent with a pointed edge, perfect for those who struggle with habits often related to anxiety and stress, such as picking at the skin and nail-biting. Calm Strips Circles can discreetly be placed on your laptop, phone, notebooks, computer mouse, phone holders, and more.
Started by Michael Malkin, he created Calm Strips to help his own restless energy and anxiety. In just one year, the business has grown from being run from inside his home to a corner office with five employees. With over 100,000 satisfied customers, including teachers and students in over 1000 schools nationwide, from kindergarten to college, Calm Strips is a must-have supply in offices and classrooms, whether virtual or in-person.
"Now and in the future, the Calm Strips commitment is always on customer service," said Michael Malkin, creator and founder of Calm Strips. "The fact that we're here and we're able to help others in the world fills me with a tremendous sense of pride." Calm Strips proudly supports a variety of organization American Suicide Foundation and have made donations to the TLC Foundation, the California Teacher's Association, and more.
Every Calm Strip embodies a calming scene in nature and is packaged with an inspiring quote to resonate with its user. The Calm Strip Circles called Pretty Bird and On the Lake embody the continuing unique designs of every pack of these unique adhesives. As always, these Calm Strips feature a water-resistant, textured finish that is equal parts durable and satisfying to the touch. The materials are rated to stand up to the elements, including water and sanitizing, for up to 4 years.
Calm Strips Circles are available for purchase at http://www.calmstrips.com. The pack of new Calm Strips Circles includes 5 reusable strips and is priced at $12.49.
Follow Calm Strips
https://www.instagram.com/calmstrips/
https://www.facebook.com/calmstrips
Media Contact
Nicole Pyles
nicole@buzzbrightpr.com
(971) 770-7770