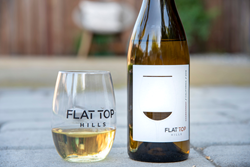 "Recently I've been sitting on my back patio with a glass of Flat Top Hills while doing a quick video call with my sisters...We hope to help someone else create their perfect outdoor retreat." - Angelina Mondavi, consulting winemaker
NAPA, Calif. (PRWEB) April 28, 2020
More than ever before, the backyard has become a place to escape and unwind, and Flat Top Hills wants to help bring more joy to these outdoor spaces. The Flat Top Hills 38° 49' Backyard Sanctuary Sweepstakes will award one winner with a makeover for a patio, garden, or balcony. Other prizes include gift cards for meal delivery, a Flat Top Hills wine glass and wine bucket set, and mini corn hole games.
"Recently I've been sitting on my back patio with a glass of Flat Top Hills Rosé or Sauvignon Blanc while doing a quick video call with my sisters. That's my "Flat Top Moment" – a small, everyday pleasure," said Angelina Mondavi, consulting winemaker and part of the fourth generation of the storied winemaking family. "We hope to help someone else create their perfect outdoor retreat."
Isa Hendry Eaton and Jennifer Blaise Kramer, authors of the new book, Small Garden Style: A Design Guide for Outdoor Rooms and Containers, share the sentiment. "With a little thought and planning, outdoor spaces can serve as the most livable and lovely garden rooms that truly expand our living space."
Drawing on Eaton's years of experience as a landscape designer, combined with Kramer's background as a lifestyle writer, the guide helps readers define their personal style and create a vibrant, modern outdoor oasis that's the perfect spot to enjoy a glass of wine. The book is available at PenguinRandomHouse.com and other online booksellers.
Inspired by the Mondavi family's vineyards in the remote Dunnigan Hills – at coordinates N 38° 49′ 24.507" W 122° 1′ 55.851" – the Flat Top Hills line includes bright, fresh wines that are perfect for Spring, like luscious Rosé (SRP $13.99), aromatic Sauvignon Blanc (SRP $13.99) and ripe Chardonnay (SRP $13.99), along with Flat Top Hills Red Blend (SRP $15.99), and Cabernet Sauvignon (SRP $15.99). Crafted by head winemaker Randy Herron, in collaboration with consulting winemaker Angelina Mondavi, the wines are bold, fruit-forward and distinctly quaffable.
Now through May 31, consumers can enter the Flat Top Hills Backyard Sanctuary sweepstakes at https://www.facebook.com/FlatTopWines. Complete details and official rules are at https://bit.ly/FlatTopSanctuary. Void where prohibited. Flat Top Hills is available nationwide wherever fine wine is sold.
About Flat Top Hills
Flat Top Hills is a premium collection of vineyard-driven wines from the "G4," or fourth generation of the iconic C. Mondavi family, whose roots in California winemaking date back nearly 100 years. Building on a legacy that includes some of the most storied wines and regions of California, Flat Top Hills is family-owned and draws from family-farmed vineyards. Together, G4 consulting winemaker Angelina Mondavi and head winemaker Randy Herron developed the line with an eye to approachability and uncompromising quality. Visit FlatTopWines.com to learn more, and follow along on Facebook, Twitter and Instagram @FlatTopWines.