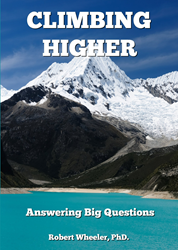 ST. LOUIS, Mo. (PRWEB) September 02, 2019
The need to understand the meaning and source of our existence is like other personality traits in that we all have it to some degree. For some it lies in recesses of the subconscious mind dominated by more pressing tasks of daily life, for some it is satisfied by religion or social traditions, and for some it is a major concern. But, it is a neglected topic in our fast moving society. Why we're here, where we're going, why persist in difficult tasks are major issues for many people. The new book Climbing Higher: Answering Big Questions deals with this topic from a research viewpoint with logic and interesting adventure.
Not everyone climbs mountains, however stories of climbing adventures provide insight into the adventure of life that we all share: overcoming obstacles in life and reaching out to something bigger and higher than immediate daily activities. History and psychology indicate that this is a strong human need that includes having a sense of meaning and purpose. Mountains can symbolize obstacles in meeting these needs, and experiences in climbing mountains provide a vehicle both actually and figuratively for exploring mechanisms and impacts involved.
The book begins with a personal experience climbing Mount Fuji that nearly ended in disaster, with the question of why people do such things. Subsequent chapters alternate between mountain climbing experiences and research results about why people pursue difficult tasks. A bottom-up approach supports culminating proposals of spirituality as a universal personality trait, nognosticism that recognizes knowledge is limited, ecumenical humanism for religious tolerance, and the philosophy of pragmatic pluralism. For life to be meaningful and manageable, people need a sense of purpose and coherence that is best met by having belief in a higher transcendent realm while also having enough doubt about its nature or validity to pursue a quest for ultimate reality even though a great paradox occurs.
Despite our improved standard of living with its comforts and entertainment, there are increasing rates of depression, anxiety, suicide, and criminality. Many people are dissatisfied and have a nebulous feeling of meaninglessness or discontent from wanting "something more." They are bombarded with media coverage about consumerism, crime, fraud, conflict, and terrorism. Educators cater to radical minorities and teach about self-enhancement and material wealth. Politicians and community leaders push for power and self-interests. Nations pursue warfare, global conflict, and violence. All of this could be replaced with cooperation and helpfulness if our media, educators, leaders, and politicians would emphasize this most fundamental human need rather than immediate gratifications and thrilling events.
For more information, look at http://www.ontosscience.com.