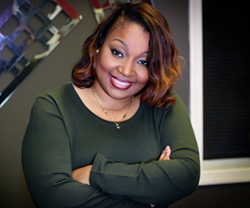 "I want readers to take away a sense of hope and a sense of family. Despite the trials that come our way you can accomplish anything as long as you keep your faith, and as long as you keep your family"
WASHINGTON (PRWEB) September 24, 2018
Life isn't fair. People are constantly juggling a laundry list of items and coping with an insurmountable amount of requests that require them to give just a little more of their time, and emotion. The innate internal struggle to prioritize that which is urgent vs that which is important seems to be a daily battle for most. One can agree on the importance of family and understands the old adage, "family first." So what is one to do when family forsakes them, or makes mistakes that seem irredeemable? When life becomes unbearable, what do we do and how do we deal?
With the release of her new book "We All Have A Story," author Tiffanye Paige captivates readers with her idyllic delivery. "We All Have A Story" reiterates the notion that anything is possible with the support of family. Most importantly, the reader will be able to relate and recognize the power of their own respective stories.
At just 15 years old, she lost the most important person in the world to her, her older brother, who was tragically murdered. From the pain of her loss, "We All Have A Story" was born. Tiffanye attended Howard University where she received a Bachelor of Music and a Master's Degree in Social Work. Her love for writing began at an early age and has manifested into a career as a published author.
New Book Release From My Company Lightning Fast Book Publishing!!! Tiffanye R. Paige's "We All Have a Story" is an entertaining fictional family drama. Many of this book's colorful characters can be found in any family. The ups and downs of family life are the focal point of this literary work. This story reveals how anything is possible with the love and support of family.
Contact Tiffany for an Interview or order your copy now: http://www.TiffanyeRPaige.com
Page Count: 312