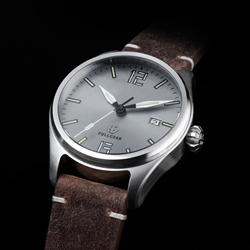 HONG KONG (PRWEB) November 09, 2020
Reading the time in pitch darkness is always the biggest challenge in horology history; everyone must have experience of how annoying when you cannot read the time in cinema? Nothing is more convenient than an all-the-time glowing watch on your wrist, lets introduce FullGear watch, a solution with eye-catching design for all of the above.
The FullGear team has just unveiling their first series of watch, named Pioneer, a handsome automatic pilot watch equipped with Swiss made tritium gas light (GTLS). Paired with their user-friendly watch customizer, customers are going to experience a new concept of watch making, a total freedom of what-it-would-be for your watch.
FullGear is the world first customizable tritium watch brand. Starting from color of the case, design of the dial, color of hands, material of the strap, you could even have access to color of tritium tubes on the dial or hands. None of the other tritium watch brands offer customizing service as detailed as this before.
Pioneer series features Swiss made GTLS from mb microtec, a leading manufacturer located in Niederwangen, Switzerland. GTLS also known as tritium tubes, a special ALL-THE-TIME glowing technology used in tactical force, unlike tradition luminance, tritium tubes do not need any external energy and can keep glowing for 12 years, allowing readability in even the most extreme condition. FullGear is one of the few watch brands licensed to equip tritium tubes.
FullGear is non-compromising on every part and material; the cases are made with marine grade 316L stainless steel with scratch-resisting sapphire crystal, while the straps are high quality USA oiled leather with quick release system. The core is the Seiko instrument NH35 3 hands date automatic movement, a reliable choice based on its steady performance.
The FullGear Kickstarter campaign is still live out there. Super Early Bird price as low as USD$293, get the offers now below while stock last:
https://www.kickstarter.com/projects/fullgear/fullgear-the-world-1st-customizable-tritium-watch
About the FullGear Team:
The FullGear Team is composed of well-experienced watch makers of different fields in Hong Kong. They have been designing and manufacturing thousands of timepieces in different materials and specifications in their career. From high-end tourbillion watch to multi-function smart watch, the passionate team is now looking for new challenges.
Contact:
Luke Lau
E-mail: marketing@fullgear.watch
Facebook: https://www.facebook.com/FullGearWatches
Twitter: @FullGear_Watch
Instagram: https://www.instagram.com/fullgearwatch/