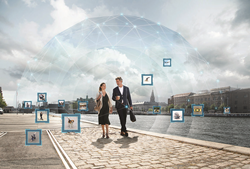 "With Oticon More, I'm experiencing a sense of effortless hearing regardless of what the soundscape is or where the sounds are coming from," says Dr. Leslie Soiles, Chief Audiologist at HearingLife
SOMERSET, N.J. (PRWEB) January 19, 2021
HearingLife is proud to announce that they are now offering the new Oticon More™, the first-ever hearing aid built with an onboard Deep Neural Network (DNN), to give people with mild-to-severe hearing loss a fuller, more balanced and effortless hearing experience. The hearing aid scans and analyzes the sound scene 500 times per second, capturing and processing the details of sound with better contrast, balance and clarity than ever before.
When people with hearing loss expend extra effort to listen, they often become more tired, and they are then less active. In a recent study with over 1000 HearingLife customers, they shared that their top 3 noticeable benefits from wearing hearing aids are a more active life, a better social life, and less listening effort. Oticon More is trained on 12 million real-life sounds to give the brain more of the information it needs to decipher the intricate details of sound. Through this experiential learning experience, it processes speech in noisy environments more like the human brain. As a result, people experience noticeably better speech understanding with less effort and the ability to remember more.
"With Oticon More, I'm experiencing a sense of effortless hearing regardless of what the soundscape is or where the sounds are coming from," says Dr. Leslie Soiles, Chief Audiologist at HearingLife and long-time hearing aid wearer. "Because of the Deep Neural Network (DNN), I'm personally experiencing improvement in my hearing, and my ability to understand what the person is saying has been improved by so much compared to any other hearing aids I've tried."
More clarity. More hearing. More life.
HearingLife hearing care providers are thrilled to be able to offer this new life-changing technology to their customers. Oticon More with BrainHearing™ technology brings you closer to the sounds of life that should be heard, not missed. Built on Oticon's most intelligent platform yet, Oticon More provides 30% more sound to the brain and improves speech understanding by 15%.1
Did you know that even with mild, untreated hearing loss, your risk of dementia can double? In a 25-year study, 2 people with untreated hearing loss had a higher risk of dementia. And since science shows that we hear with our brains and not our ears, having a hearing aid that supports your brain is all the more important.
Connectivity and Convenience
With Oticon More, customers can easily connect with a wide range of devices for a high-quality listening experience in everyday situations. The hearing aid supports direct streaming from iPhone® and select Android™ devices. For people who want the convenience of rechargeable batteries, Oticon More comes in a discreet lithium-ion based rechargeable style (miniRITE R) that provides a full day of battery life, including streaming, after just three hours of charging.* Plus, wearers can select from eight attractive colors to blend with a range of hair and skin tones. For information about Oticon More and to how to schedule a hearing assessment, visit hearinglife.com/more.
1Compared to Oticon Opn S™, Santurette, et al. 2020. Oticon More clinical evidence. Oticon Whitepaper.
2Amieva et al. Self-reported hearing loss, hearing aids, and cognitive decline in elderly adults: a 25-year study. 2015
†EEG testing with MoreSound Intelligence in on vs off setting, from Santurette, et al.
*Lithium-ion battery behavior varies depending on hearing loss, lifestyle, and streaming behavior.
iPhone is a trademark of Apple Inc., registered in the U.S. and other countries. Android, Google Play, and the Google Play logo are trademarks of Google LLC.
add Lancet footnote
ABOUT HEARINGLIFE
HearingLife is a Demant company, a global hearing healthcare leader and industry pioneer built on a heritage of care and innovation since 1904. HearingLife operates more than 600 hearing care centers across 42 states. We follow a scientific, results-oriented approach to hearing healthcare that is delivered by highly skilled and caring professionals. Our vision is to help more people hear better through life-changing hearing health delivered by the best personalized care.