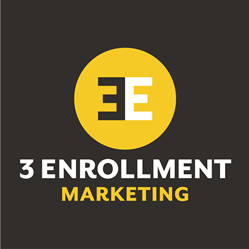 A president's strong online presence produces better results for the institution. Building and maintaining that presence is complex, taking time they don't have. We do—and these solutions will help a president make a difference for their institutional goals.
ONEONTA, N.Y. (PRWEB) July 07, 2020
After a spring of pandemic-driven campus closures followed by the compelling calls for social justice upon their administrations, colleges and universities are planning for fall amidst unknowns and tumult.
Online communication has become critical in this time, and, for the president, a vibrant personal online presence is imperative.
"Every time I talk with a president I am struck by the complexity of their situation. They recruit, they fundraise, they're focused on retention. Their job is to lead and inspire a community. We know that being a great communicator and leveraging online platforms helps you do those things--and we do that exceptionally well," said James Rogers, CEO of 3 Enrollment Marketing, Inc. (3E).
3E now offers both an Online Presence and Reputation Audit for college and university presidents and full-service support in building that presence for the semester or academic year. The solutions are rooted in several core principles.
Focusing on the audience(s).
A president serves many constituents, including prospective students, current students, administration, faculty, alumni, the board of trustees, and community members. 3E ensures the right mix of digital and social channels and messages to engage each of these different audiences.
Building an engaging experience.
Rather than social being a series of posts, 3E builds an overarching, cross-channel strategy. And because clarity and confidence are so important to delivering that content, creating connection, and strengthening one's presence, the solutions include coaching on the art of modern communication in one-on-one sessions with communication expert Jessica Chen of Soulcast Media (https://soulcastmedia.com/).
Developing compelling content.
From providing content recommendations to delivering complete weekly posts, 3E can provide any level of support needed. The 3E team will post on Twitter and LinkedIn; coordinate live streams with members of the campus community; or post recorded sessions of key events. The objective is to help presidents communicate more—while enabling them to manage less.
Being cutting-edge (when it counts).
While digital and online platforms are growing all the time, 3E is pragmatic in its approach: it's not about doing it all or jumping onto every new platform or trend, but about doing what will make a difference for institutional objectives. 3E keeps up with this—so institutions don't have to—and distills it into best practices that are straightforward to follow.
Patricia Maben, 3E's president, shared, "As modern marketing experts who work with higher ed institutions across the country to build 360-degree, cross-channel enrollment marketing campaigns, we see the impact of a president's online presence on institutional objectives every day. We're now applying our expertise in helping college and university presidents optimize their own presence which, in turn, will positively impact their institutions."
For a college or university president, solid communication has never been more critical than right now—yet it has never been more complex. 3E minimizes this complexity for a president, enabling them to communicate more of the right compelling content effectively and efficiently.
3E is hosting a webinar on Thursday, July 9 at 2 pm ET to share the insights they've gained on the importance of a president's online presence and how they are applied in these new solutions. Register here.
Read more about these solutions on 3E's website. Learn more about Soulcast Media at https://soulcastmedia.com/.
About 3 Enrollment Marketing
We are modern marketing built for higher ed. Enrolling a student is challenging—and as marketing channels grow and the technology solutions to manage them multiply, it's not getting any easier. In fact, it can take coordinating up to six vendors to try to build a comprehensive marketing plan. That's insanity. 3E stops the insanity and manages the complexity. We are difference makers.
https://3enrollment.com/
https://twitter.com/3Enrollment
https://www.linkedin.com/company/3enrollment/