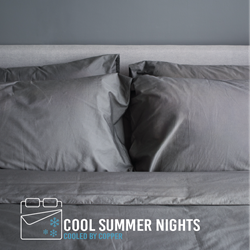 Stay cool this summer with Savmos copper infused bedsheets. now on kickstarter!
GRONINGEN, The Netherlands (PRWEB) May 06, 2019
SAVMOS, a recent start-up in the bedding market, recently unveiled a new concept to the field: copper-infused, cooling sheets. On the fourth day of their Kickstarter campaign, the company has already reached 500% of their target. With the thought of impending sweaty, summer nights on their minds, backers seem to see its potential and have already invested over 28,0000$ into staying cool as well.
About Savmos Cool Bedsheets.
The SAVMOS bedding collection was designed by two experienced, Dutch entrepreneurs living in the Middle East and Southeast Asia. They were tired of fluctuating between having to choose between overheating under suffocating sheets or going without and being blasted by air conditioning. With their families in mind, they developed the concept for a material that naturally moderates your body temperature, so friends and family could rest well and stay cool.
The collection is unique in the way it weaves natural copper-infused fibers into high-quality, soft-to-touch cotton and modal. The SAVMOS technology naturally reduces bacteria, increases breathability, and conducts heat away from your body to diffuse over a larger surface area. Copper's thermal conductivity makes it a prime cooling material. Copper and its alloys are also naturally antimicrobial; ancient Egyptian and Greek civilizations used copper to transport water (to avoid slime and biofouling) and to sterilize wounds. Today, SAVMOS sheets have been tested and proven to reduce bacteria by 99.4%, so they stay hygienic for longer. In this way, the SAVMOS collection equips its customers with sheets that ensure they rest comfortably and wake up refreshed regardless of the season or where they live.
Customers can learn more about the concept or invest in a set of sheets today on the SAVMOS Kickstarter page. SAVMOS sheets come in standard bedding sizes, with pillowcases available to order separately. SAVMOS is priced to be accessible to the average family, with prices starting at $28. Orders begin shipping in August 2018.
To learn more about SAVMOS or to back the campaign, visit their KickStarter page here.
About the founders.
Frank Vos is the founding partner of Greenwhite marketing named after the colors of the city of Groningen, the Netherland. GreenWhite Marketing is an online marketing company serving customers throughout Europe and Asia.
Tom Sam has been in the textile business for several years and is now partner in Repeltec a company that makes insect repellent treatments for garments and other textile products.