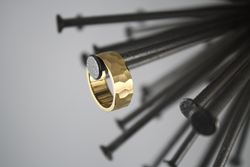 COS COB, Conn. (PRWEB) February 04, 2020
Collide Rings announces the launch of a line of male engagement and wedding rings that go against the social norms we've become so accustomed to. Collide Rings is a designer of a patent-pending two-part male engagement and wedding ring that allows the wearer to sport an engagement ring with their significant other throughout the engagement period. When the time comes to exchange vows, instead of exchanging their current ring for a new one or using the engagement ring as their wedding ring, the wearer will receive a wedding ring that simply fastens to the engagement ring to form one seamless ring to be worn throughout marriage.
"Times are changing, and more and more men are wearing engagement rings. The dogma surrounding engagement rings is being shattered by modern couples that want to equally show their commitment to each other. Life is about experiences, and at Collide Rings, we are enabling couples to share in the entire engagement and wedding experience together" said Collide Rings co-founder, Kristen Hinds.
The line is comprised of three engagement rings, The Foundation, The Bedrock, and The Base. These can be mixed-and-matched with four wedding rings – The Precipice, The Valley, The Tide, and The Pinnacle. All rings are crafted in Brooklyn, New York from ethically sourced precious metals.
The Pinnacle is an exclusive design, meaning that it will only be around while supplies lasts. But not to worry – Collide Rings has indicated they will reveal an exclusive design with each collection they release with the same deal of when it's gone, it's gone.
The engagement rings retail between $350 and $725 depending on the precious metal chosen. The wedding rings retail between $800 and $1,350 depending on the precious metal chosen.