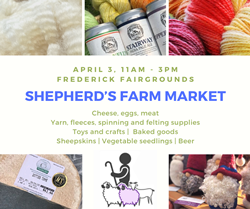 "We invented a new kind of specialty farmer's market, the Shepherds Farm Market, to give our members a place to meet the public and display the great diversity of the products they have created during this most difficult year." - Polly Matzinger, Frederick County Sheep Breeders' Association
FREDERICK, Md. (PRWEB) March 17, 2021
Unlike most farmers markets, it will showcase the wares of local shepherds, with locally raised lamb, sheep and goat cheeses, milk-based soaps, hand-dyed yarn and staples for hand spinners – beautiful raw fleeces, batting, and roving. There will also be fiber art, felted and knitted clothing and toys, baked goods, veggie seedlings, and more. We even have a sheep farm that is also a microbrewery, which will be selling beer to take home.
So if you're looking for ethically raised, local leg of lamb to serve on Easter Sunday, or for locally-made hand dyed yarn or fleeces to keep you knitting or felting all spring, the market will be a great place to browse, and to meet local shepherds and like-minded neighbors. Plus—it's a great way to support local sheep farmers.
The shepherds' market was the brainchild of Polly Matzinger and Patty Sanville, vice president and president of the Frederick County Sheep Breeders' Association. The motivation was that the fiber festivals, fairs, and other agricultural events that are normally the main sources of income for local shepherds were all cancelled due to the pandemic.
"We knew we had to DO something," said Matzinger. "So we invented a new kind of specialty farmer's market, the Shepherds Farm Market, to give our members a place to meet the public and display the great diversity of the products they have created during this most difficult year."
The market will be open from 11AM to 3PM.