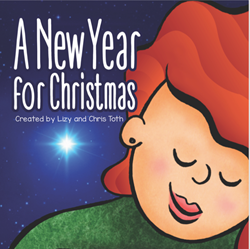 A New Year For Christmas is a child selfless wish to Santa for a New Year when everyone is able to come together and be more understanding, helpful and loving with each other every day
PALM BEACH, Fla. (PRWEB) December 18, 2020
A New Year for Christmas is a timely children's story created by husband and wife creative team, Lizy and Chris Toth. Available on Amazon. Purchase HERE
Author and illustrator Lizy and Chris Toth say the inspiration for this beautifully illustrated classic Christmas book was the current social separation the entire world is experiencing. A New Year For Christmas is a child selfless wish to Santa for a New Year when everyone is able to come together and be more understanding, helpful and loving with each other every day.
Lizy and Chris are parents of twin boys and they understand the importance of working together. They combined their strengths to create books. Their first book "The Love Behind The Mask" was created to help kids understand the importance of a mask and that everyone wears a mask out of love and care for each other. It made Amazon #1 New Release in just 1 week and is still selling well today.
Every book created by Lizy and Chris Toth "A New Year For Christmas", "The Love Behind The Mask" and "Loving you is…" has been inspired by their twin boys Zak and Max and are designed to make the world a better place. All available on Amazon click HERE to see all of them.
For more information please visit their website lizytoth.com
And follow them on twitter @LizyToth