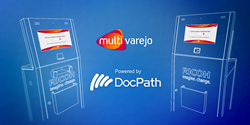 Some of the most important benefits of the document solution are: it optimizes and digitizes a large variety of logistics processes and also reduces drastically the volume of printed logistic documentation
SUWANEE, Ga. (PRWEB) March 18, 2020
DocPath, a multinational business document solutions company solved the problems Multivarejo encountered with their automation of logistics processes.

DocPath helped Multivarejo implementing a perfect solution for one of the most important challenges the multinational logistics company encountered in the optimization of its logistics processes.
Some of the most important benefits of the document solution are: it optimizes and digitizes a large variety of logistics processes and also reduces drastically the volume of printed logistic documentation.
DocPath, a multinational business document solutions and Customer Communication Management software company solved the problems Multivarejo encountered with their automation of logistics processes, from the moment the carrier collects the documentation, until he returns it duly signed and scanned, so it can be uploaded to their DB without the need for third parties to intervene in the process. This complete automation of the logistics process allows the carrier to be the only company involved in this process flow.
Shipments begin and end with Bills of Lading, sometimes abbreviated as B/L or BOL. Those are required documents for moving freight shipments. The BOL works as a receipt of freight services and is a legally binding logistics document providing the driver and the carrier all the details required to process the freight shipment and invoice it correctly.
The Brazilian multinational company, Multivarejo, is now using the new DocPath Kiosk logistics document solution, a comprehensive software product developed specifically to optimize and digitize a large variety of logistics processes. DocPath improves the efficiency of the company's business logistics flow by automatically creating bills of lading during the quoting and booking processes. The logistics document solution includes a central Web Service processing application installed on a Windows server; the Kiosk, an interface application installed on different workstations to be used by desk clerks and guards; along other DocPath document applications, for document signature, archival and retrieval. The BOL has to be provided to the carrier on pickup, as well as attached to the packaged freight.
The self-service KIOSK logistics document solution is designed to run on a client machine, on which any customer needs can be adapted through multiple configurable screens and adjusted by the company to perform the desired logistics document flow. This multi-language pack allows visualizing and signing documents with the use of Wacom tablets. In addition, it has all functionalities required to be seamlessly integrated with multiple document printing processes.
The Kiosk Logistics Service pack is a web service that offers its users the possibility to manage users, store and parse different file formats and display information of each of the documents or document groups that are part of the path composed. This logistics software pack is easily adaptable and offers the option to configure the information that needs to be stored and displayed on the web, in order for the customer to track their documents in real-time.
As DocPath's logistics document software adequately met the specific business and technical needs of Multivarejo and the integration with their existing system was straightforward, the multinational logistics operator has managed to transform and optimize the management and generation processes of its logistics-related documents – BOL and packing slips – in record time.
For any further information, visit https://www.docpath.com/logistics-and-distribution-services-document-software/.
About Mutlivarejo
GPA is South America's largest food retail group, a Casino Group company present in all regions of Brazil. GPA Food, Multivarejo (Hypermarkets, Supermarkets, Convenience Stores) their new 'wine store' concept, "Pão de Açúcar Adega", combines a specialized store, an e-commerce platform, and a mobile app. The Business Unit is also responsible for the Exclusive Brands division, with Qualitá, Taeq, Finlandek, Club des Sommeliers, Casino, Caras do Brasil, Cast and Confraria.
https://www.gpabr.com/en/business-and-brands/business/multivarejo/
About DocPath
DocPath is a leading document software manufacturer that provides its worldwide customers with the technology that allows them to implement sophisticated Customer Communication and Document Output Management processes. Created in 1993, DocPath´s solutions have been implemented in companies all over the world. Among its international clients are prestigious banks and first-class corporations, which are aided by DocPath solutions by simplifying the complicated and critical tasks involving the design and distribution of business and customer documents. DocPath maintains a strong commitment to R&D&i, an area that receives a good amount of its revenue, and in which lies the key to the company´s success.
Disclaimer: DocPath is a DocPath Corp. registered trademark. All rights reserved. Other mentioned trademarks may be the property of their respective owners.