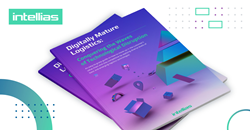 BERLIN (PRWEB) March 29, 2021
Intellias, a trusted software development company and a long-time partner to global logistics providers, has released a whitepaper titled "Digitally Mature Logistics: Conquering the Waves of Technological Disruption" to assist logistics companies in solving their challenges of aligning disruptive technologies and supply chains.
As supply chains tie together different industries, logistics service providers have to find an optimal digital strategy that covers the needs of numerous stakeholders. This imposes extreme pressure on logistics companies — especially today, in the face of COVID-19 pandemic-related events that affect the movement, storage, and supply of goods.
This Intellias whitepaper provides a clear look at the multi-level pyramid of logistics technologies for transparent supply chains and the preferred way to approach digitalization:

An in-depth view into the challenges of logistics providers that could undermine digital transformation of their services
A systematic and unified strategy for technological innovation in logistics that addresses industry challenges
A detailed guide on how to pass all levels of innovation on the way to resilient and transparent logistics operations
An expert look into the future of supply chains accompanied by a checklist for innovation in the logistics industry
You'll learn how to introduce recent innovations to the logistics industry and how to scale them throughout the supply chain by slowly adopting digitization instead of taking a sudden leap, which can lead to resource overhead and operational inefficiency.
The whitepaper will be of use for logistics providers who want to develop a step-by-step strategy. It gives clear guidance, procedures, and a direction to navigate in the untapped field of digital technologies. Logistics providers will get familiar with supply chain technology trends, understand the level of urgency for particular technologies, and be able to distinguish between different levels of technology to optimize their digital transformation plans.
To request your copy of the Digitally Mature Logistics whitepaper by Intellias, click here: https://www.intellias.com/digitally-mature-logistics-whitepaper/
About Intellias
Intellias is a digital solution and technology provider to Fortune 500 enterprises and businesses in various fields. Working in Ukraine, Poland, Germany, the United States, and Saudi Arabia, over 1,500 Intellias experts deliver engineering services to the logistics, automotive, retail, finance, and telecom sectors. Intellias has been recognized as a Leader in the 2021 Global Outsourcing 100 list by IAOP, featured by Inc. 5000, acknowledged in the GSA UK Awards, and named the winner of a Silver Stevie Award in the 17th Annual International Business Awards. The company has also been ranked the #1 IT services employer in Ukraine by Forbes.
For more information, reach out to Intellias at info@intellias.com.