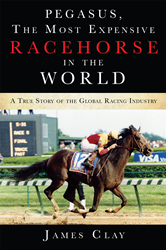 When I finished the journey and spoke of the tale to friends and strangers they all wanted to know what happened next? So I wrote this book
TUMWATER, Wash. (PRWEB) March 06, 2020
Author James Clay gives his account as the seller of Pegasus, The Most Expensive Racehorse in the World: A True Story of the Global Racing Industry ($24.99, paperback, 9781545679951; $8.99, e-book, 9781545679968).
It was an amazing day in the year 2000 when thoroughbred racehorse Fusaichi Pegasus won the Kentucky Derby. However, although many other worthy equines have taken their place in the winner's circle, only one commanded such a hefty price tag. Clay tells why.
"When I finished the journey and spoke of the tale to friends and strangers they all wanted to know what happened next? So I wrote this book," said Clay.
Author James Clay practiced law for 40 years in civil practice with an emphasis on contracts. He graduated from St. Mary's College, CA and Hastings College of Law in San Francisco. He is also a world traveler who has backpacked around the world twice.
###
Mill City Press, a division of Salem Media Group, is a leader in the general market division of self-publishing. Pegasus, The Most Expensive Racehorse in the World is available online through amazon.com and barnesandnoble.com.