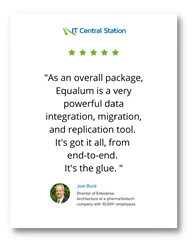 "Equalum has the right solution to address a compelling growth opportunity created by digital transformation and cloud hyper-adoption", says Kevin Petrie, VP of Research at Eckerson Group.
SUNNYVALE, Calif. (PRWEB) April 13, 2021
The aftermath of COVID-19 brought with it an accelerated emphasis for digital transformation to organizations across the globe. Customer behavior patterns were rapidly evolving, real-time data acquisition for better analytic insights became even more critical, and cloud migration - an imperative. The heavy digital push in 2020 led to meteoric interest in Equalum - a CDC Powered, Modern Data Integration Platform - based out of Tel Aviv and Silicon Valley, that is riding high on top of the digital evolution wave.
As a result, Equalum added several Fortune 100 companies to its customer portfolio in 2020, captured top talent from the competition, and landed a multi-year, multi-million dollar deal with a leading, global company for enterprise wide adoption, in turn growing Equalum over 3x in YoY revenue. Highlighted as one of the "10 Hottest Start-Ups of 2020" by CRN, a "Trend-Setting Product for 2021" by Database Trends and Applications and one of the "Ten Best Change Data Capture Tools of 2021" by Solutions Review, Equalum is aiming to be a leading, disruptive player in the data integration space by the end of 2021.
Equalum's primary differentiation is its powerful, native solution for all of the core, modern architectural use cases: replication, streaming ETL and batch within one, no-code UI platform. "Consolidating these important technologies and still maintaining the level of depth and capabilities you would expect from a tool specific to just one of those use cases...that is lethal" says Equalum CEO and Founder, Nir Livneh.
"Equalum has the right solution to address a compelling growth opportunity created by digital transformation and cloud hyper-adoption", says Kevin Petrie, VP of Research at Eckerson Group. "To survive and compete, enterprises need to synchronize operations and analyze opportunities on a real time basis. This requires automatically integrating live data across hybrid, cloud and multi cloud environments."
Moving to the cloud used to be considered an opportunity versus a risk to the enterprise, but in the current data landscape, not moving to the cloud, not performing analytics, not modernizing is the real risk to an organization. "Business decision makers are no longer shielding IT" says Livneh. " IT's job has become much more than just protecting production systems. Now they also have to prevent stale, inaccurate data from impeding analytic insights. That's where Equalum comes in."
Livneh, a former Data Architect of over 600 environments, evolved into product leadership roles at companies like Quest Software before starting Equalum. "We wanted to offer a platform that bridged the gap between the growing complexity of the data movement world and the limitations of existing legacy systems" says Livneh. "Our CDC approach extracts data from the sources in real-time incrementally while allowing a full scale-out, no coding experience to data transformation and preparation, on top of open source technologies. Change Data Capture is truly the gateway for streaming data ingestion/integration from legacy systems which then empowers analytics with real-time data."
The Fortune 100 agree. "The best reason to use Equalum is for change data capture and data streaming." says Joel Buck, Director of Enterprise Architecture at a leading, global pharma/biotech company in his review of the platform at IT Central Station (a 3rd party, unbiased solution review platform). "We have been able to create features in some of our analytical environments, which probably would have not been possible without Equalum. The ability for Equalum to stream data in real time is very powerful. I would rate this solution as a nine out of 10." Another VP from a Global Media & Broadcasting Company recently commented that "Equalum powered for us in a single week what would have taken years in house."
On the horizon for Equalum in 2021 is continued growth for direct sales and their global channel partner program, aggressive hiring across the company in Sales, Marketing and R&D, and an upcoming product innovation phase that will significantly disrupt the traditional data integration paradigm.
To learn more: http://www.equalum.io