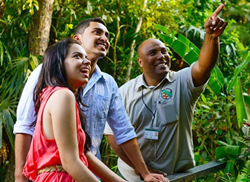 It's great to hear seasoned travellers say what an amazing place this is
SAN IGNACIO, Belize (PRWEB) November 19, 2019
A recent article in Britain's The Telegraph highlighted the blend of nature, culture and ancient Maya heritage that makes Belize such a fascinating travel destination. It also helps explain the growing popularity of Belize's inland Cayo District, the manager of Chaa Creek's Belize Natural History Centre said.
Brion Young added that the November 2019 article, "Seven Amazing Belizean Adventures" has come just in time to help people looking for a unique holiday travel destination to discover the Chaa Creek catchment area in western Belize.
The Telegraph article describes the allure of diving the world's second largest barrier reef, kayaking among sea turtles, roaming the Maya Mountains, exploring ancient ceremonial caves and other Belizean adventures before introducing readers to the Chaa Creek catchment area.
"Immersion in Belize's lush rainforest is rewarded with jaw-dropping natural beauty and soul-stirring wildlife encounters. As well as Maya sites in the Chaa Creek catchment – a temple complex thought to be a satellite of Xunantunich – the area is renowned for birdwatching, with some 300 bird species calling this jungle home. Spider monkey, iguana, tapir and puma sightings are also on the cards."
Mr Young said it was this combination of natural beauty, exotic wildlife and the remnants of Belize's ancient Maya civilisation that moved Chaa Creek owners Mick and Lucy Fleming to settle in the area back in the late 1970s.
Over the years, as Chaa Creek evolved from a small farm to become Belize's first eco-resort, the Flemings established Chaa Creek Inland Expeditions, opened the Belize Natural History Centre and Blue Morpho Butterfly Farm, and offer a growing number of tours and excursions to introduce visitors to Belize's inland attractions.
And now travel writers and a growing number of visitors are discovering western Belize.
"It's great to see an area that is not only nearby, but also near and dear to our hearts, receiving the attention it deserves. While the majestic ancient Maya temples and cities such as Caracol and Tikal are justly famous, the surrounding rainforests that once contained sprawling suburbs are equally fascinating. You just need to know what to look for," Mr Young said.
And this is where local knowledge comes in, he added.
The Lodge at Chaa Creek and its Belize Rainforest Retreat are situated within the 400-acres the Flemings set aside years ago as a private nature reserve. The reserve, a sanctuary for birds and wildlife, also contains some 70 recorded ancient Maya archaeological sites, including the more recently discovered temple of Tunichilen, as well as a large number of what were once homesites and farms.
Located between the huge ancient metropolis of Caracol near the Chiquibul National Forest and the beautiful, sprawling city of Tikal in nearby Guatemala, the Chaa Creek catchment was, as the Telegraph article suggests, closely identified with the temples, ball courts and ceremonial centre of Xunantunich, whose stunning central pyramid temple with panoramic views of Belize and Guatemala draws hundreds of Chaa Creek guests each year.
Canoeing the Macal River, with an easy downstream paddle to San Ignacio Town, is another popular pastime for visitors. Canoeing offers an opportunity to travel the aquatic trade routes of the ancient Maya while exploring a riverine environment replete with large iguanas sunning on tree branches while kingfishers and other birds dive and dip into the water.
And while one could easily spend weeks exploring Chaa Creek and the surrounding area, Mr Young said, Chaa Creek Expeditions' fleet of air-conditioned vans, SUVs and ATVs are available to take visitors wherever they wish to go in this geographically and culturally diverse little country.
Mr Young explained how the infrastructure, experience and nationwide network of colleagues Chaa Creek has developed over the years makes it the perfect home base for exploring the rest of the region.
"When you consider our wide selection of tours, all-inclusive Belize vacation packages and coast-to-coast coverage, along with how much there is to see and do right here, you'll understand why Chaa Creek has become known as Belize's 'Destination Within the Destination,'" he said.
"I think one of the things we locals are proudest of is how visitors react when they discover how vast and spectacularly beautiful the Chaa Creek area is.
"It's great to hear even the most seasoned travellers say what an amazing place this is," Mr Young said.
The Lodge at Chaa Creek is a multi-award winning eco resort set within a 400-acre private nature reserve along the banks of the Macal River in Belize. It was recognised by National Geographic with first place honours at the 2017 World Legacy Awards held in Berlin.