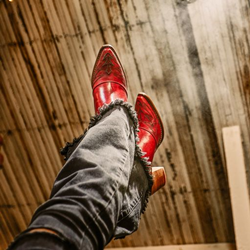 FORT WORTH, Texas (PRWEB) February 06, 2023
Valentine's Day just got a whole lot sassier with Nocona Boots' red cowgirl booties. These booties are designed to turn heads, with a modern cowgirl style that is both cute and comfortable.
The 7" Micki bootie features marbled red leather that is accented with edgy stitching. With a 2 ½" fashion heel and a sassy snip toe, there's no sacrificing comfort for style with a fit that's made history and keeps women of all ages raving. These booties are perfect for Valentine's Day, whether the plan is to go on a romantic date or hit the town with the besties. These red western booties are versatile, comfortable, and stylish, making them the perfect addition to any outfit.
"Every woman knows that wearing a pair of red cowgirl boots makes a powerful statement. As soon as you put those boots on, you own the room and feel bold," said Norma Campos, Product Designer at Nocona Boots. "When I was designing these booties, I worked hard to find the perfect shade of red that would stand out and leave a lasting impression."
Miss Enid Justin chartered her own course as a rare female trailblazer with an entrepreneurial spirit nearly a century ago when she founded Nocona Boots. Her passion for bootmaking remains today with the Miss Enid Collection, which honors her legacy as the founder and continues to serve as a reminder to "stand out in the crowd" and live boldly.
So, whether it's adding a pop of color to your wardrobe or making a statement this Valentine's Day, the red cowgirl booties from Nocona Boots' Miss Enid collection are sure to make women feel confident and stylish. The Micki red cowgirl booties are available in select Nocona Boots retailers.
About Nocona Boots
"I believe life is meant to be lived, and not in the shadows." These are the words of our fearless founder, Miss Enid Justin, who chartered her own course nearly a century ago and created a legacy that continues today. Fueled by an independent spirit and dedication to her beloved community, Miss Enid founded the Nocona Boot Company in 1925. In an era where a female entrepreneur was a rare breed, her risky "stand out in the crowd" attitude flourished as she grew her young business. Today's Nocona Boots continue to hold true to our founder's motto, with unique styles and exclusive patterns that defy convention, much like Miss Enid herself. Her passion for bootmaking innovation and community resonates in every boot we make today, with authentic character and detail defined in every stitch. We remain true to our hometown roots, proud stewards devoted to carrying on the mission of the confident, bold and remarkable woman known to everyone as the Lady Bootmaker.
Nocona Boots Facebook: @NoconaBoots | Instagram: @NoconaBoots