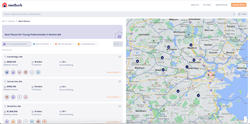 BOSTON (PRWEB) May 19, 2021
NextBurb today announced a free Neighborhood Concierge Service that takes out the pain from moving to a new place and arms users with the best choices.
Neighborhood research has been a daunting task for most folks who need to move.
Homebuyers had to browse through countless websites on the internet, search Google maps, ask and vet findings with friends, ask questions on forums and collate replies, and finally meticulously organize information into Excel sheets and more…
It took weeks, maybe even months, to make sense of all this.
Thankfully, with NextBurb's revolutionary engine, the tough part of neighborhood selection is now made simple and it is unique and personalized to the preferences of the entire family.
So what's the big deal with neighborhood discovery right now?
With the new work-from-home culture brought about by the pandemic, a lot of folks are re-evaluating their options of living close to work now. People are moving to the suburbs for a better, more affordable lifestyle.
Many are moving to cities with a better cost of living or choosing a place that is not far off from their parents or their loved ones.
It's in this context that NextBurb's technology makes so much more sense and brings absolute relief to thousands of families planning a move.
How does NextBurb operate this service?
NextBurb's revolutionary search engine uses verified data from multiple trusted sources.
Imagine data such as school ratings, crime rate, cost of living, cost of housing, proximity to amenities, and important places you frequent; neatly organized and made more meaningful for you.
What's even better, this data is mined by Expert Advisors who filter it with criteria based on your specific lifestyle as part of the complimentary Concierge Service.
The result is magical. You get neighborhood gems, layered with insights, mapped to your lifestyle.
"With NextBurb, our aim is to build a one-stop solution for neighborhood search and assisting families in their home-buying journey. The search engine helps families educate themselves and discover the best places to live based on their personal preferences. The Trusted Advisors helps them cherry-pick hidden gems that match their lifestyle. We then help families scout neighborhoods to get a first-hand experience of what living there would be like.
A NextBurb network of Local Experts will then tour around neighborhoods and homes. Once they've made a choice, families also will also get support in buying their dream home," says Nitesh Mehrotra, CEO, and Co-founder of NextBurb.
This kind of holistic information of neighborhood search is just not available on a single site anywhere else on the web.
According to NextBurb's Co-founder and CTO, Prashant Sachdev:
"The search engine updates itself in both real-time for some of the data, and periodically for others. The result is that the data you see is always fresh off the oven. So far we have information on 300+ cities in the US and cover all the suburbs within 2 hours from the city center. Our data scientists have mined relevant data to help find the perfect neighborhood choices based on one's lifestyle requirements."
To help homebuyers understand the FREE Concierge Service better and to interact with Trusted Neighborhood Advisors, NextBurb is planning a series of LIVE events to showcase the power of neighborhood discovery.
About NextBurb: The FREE Concierge Service from NextBurb is brought to you by the founders of SixWallz, a trusted corporate relocation service provider in the US.