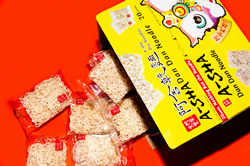 LOS ANGELES (PRWEB) February 04, 2021
A-Sha Noodles continues to have an exciting winter. Beginning the holiday season by partnering with NBA star Duncan Robinson to donate 10,000 packs of noodles to a South Florida food bank, the brand known for its healthier alternative to conventional instant noodles has recently dropped a limited-time-only exclusive with Costco.
In honor of the forthcoming Lunar New Year, A-Sha Noodles has released the Dan Dan Noodle, available at select Costco stores until February 12, 2021. Available as a 20-pack ($8.99-$9.99), the package comes with "nothing but the noodle", meaning it includes no broth or sauces and allows for any number of delicious preparations.
International noodle critic Ramen Rater recently featured the Dan Dan noodle in EP. 919 of "Instant Noodle Recipe Time", in which he combines the quickly cooked noodles with two spoonfuls of fried chili crisp, peanut butter, and a dash of soy sauce, then topping it off with a fried egg, yakibuta (braised pork), and a sprig of cilantro.
Like all of A-Sha's noodle products, Dan Dan noodles are air-dried for 18 hours and made with quality ingredients, including finely sifted whole wheat flour sourced from the USA. They contain at least 10g of plant-based protein per package and no artificial preservatives or flavoring. To find your nearest participating Costco, visit ashadrynoodle.com.
About A-Sha Foods USA
Based in Alhambra, California with roots in Taiwan, A-Sha Foods USA are producers of the world's best healthy noodle dishes. A-Sha noodles are made with only the highest quality ingredients, containing at least 10g of plant-based protein per package without any of the artificial preservatives or flavoring often found in conventional deep-fried ramen noodles. Fresh, flavorful, and aromatic, A-Sha invites you to be delighted by the convenience of easy-to-make noodles that are delicious, nutritious, and prepared with nothing suspicious. Visit ashadrynoodle.com for more information, or follow us on Instagram @ashadrynoodle.