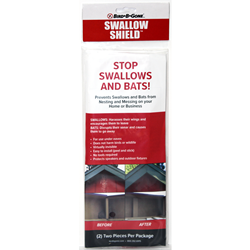 IRVINE, Calif. (PRWEB) March 05, 2020
Prevent swallows and bats from nesting and messing on your home or business. Bird B Gone Swallow Shield™ is a humane, light weight, easy to install deterrent used to prevent swallows from making mud nests in eaves, overhangs, gables, entry ways and other areas. This versatile product can also be used as a bat deterrent.
Each Swallow Shield™ Kit contains two strips 3" wide by 11" long that feature multiple clear, mono-filament lines which hang down off the self-adhesive strip when mounted. These simple, uncomplicated lines harass swallows' wings and interfere with bats' echolocation abilities encouraging them to leave the area. Swallow Shield™ is humane and virtually invisible.
Swallow Shield™ offers several key features and benefits.

Effective - Prevents swallows and bats from returning to nesting/resting sites.
Versatile - Works well in elevated areas such as eaves, overhangs, gables, entry ways, and other similar locations.
Safe - Won't harm birds, bats, other wildlife, or people.
Invisible - Swallow Shield™ has virtually no visible presence, especially when viewed from below. It has no smell or sound.
Simple - Strips are easy to install and replace as needed. No tools required.
Federal law prohibits destruction of active swallow nests. Refer to local or federal wildlife regulations for questions concerning active swallow nests.
Stop swallows before they start nesting. Discover Swallow Shield™ today!
Leading the Bird Control Industry Since 1992
Bird B Gone is a manufacturer and distributor of the most innovative bird control products on the market today. We are on the cutting edge of bird control and we are committed to providing high-quality products and exceptional customer service to every customer every day. Long-term successful bird control often requires a strategic combination of solutions designed to address different aspects of bird behavior. Bird B Gone offers free bird control consultations and a network of Authorized Product Installers.