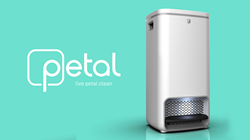 Say goodbye to rot, stink, and germs; and say hello to a clean, fresh home.
FORT WORTH, Texas (PRWEB) October 06, 2020
Everyday life can get pretty messy. Well, guess what? A solution for life's garbage is coming your way.
Petal, a technically-unique and truly first-of-its-kind new home appliance that eliminates foul odors and halts the spread of germs, simply by freezing them, is available for pre-order now at PetalClean.com.
And it's quickly picking up new fans. This morning, The Hustle named it "the world's classiest trash can." Earlier this week, Fast Company lauded Petal for its hassle-free disposal of food scraps.
Peace out, fruit flies.
Petal's patent-pending freezing technology is the driving force behind its efforts to revolutionize the interim storage of dirty diapers, food scraps, adult incontinence briefs, feminine hygiene products, pet waste, and anything else that stinks.
Feature Highlights:

Sub-zero temperature halts decomposition and put germs on ice (no more stink or pests)
Energy efficient, costs less than $1/month (8 KWh) or less than a single load of laundry.
Industry-leading 100-day risk-free trial and 1-year extendable warranty
Hands-free design and soft-touch, non-skid foot pedal
Removable 5 gallon (19L) inner pail makes it easy to compost without the mess
Child lock keeps trash in and hands/paws out.
Mechanical lid softly and quietly lowers into place, placating even the lightest sleepers.
On/Off nightlight emits a comforting glow for nighttime diaper changes or feedings.
Whisper-quiet operating at less than 30 dB – the actual range of a human whisper.
No landfill-clogging and expensive proprietary liners or accessories required.
Petal is now available for pre-orders starting at USD $199 (plus S&H) with an expected delivery of spring 2021. Backed by world-class manufacturer Danby Appliances, Petal is perfectly positioned to bring its innovation into homes everywhere across the U.S. and Canada, and eventually beyond.
As Petal co-founder and CEO David M. M. Taffet recently put it, "If you were looking for a 100-percent delivery guarantee – this is it".
Petal recognizes that, in this, the year 2020, everyone knows the importance of quarantining germs, and that many among us appreciate a side hustle. Through Petal's Give $10, Get $10 referral program, every friend you set free from rot, stink, and germs gets $10 off, while you earn $10 cash for every order placed. No limit. No strings attached.
About Petal
Established in 2020, Petal is a majority female-owned Fort Worth, Texas-based consumer goods company on a mission to stop rot, stink, and the spread of germs. Its namesake product is the world's first zero-odor, germ-freezing waste bin and the only disposal device on the market that naturally stops rot, eliminates stink, and halts the spread of germs. Petal is a purpose-driven enterprise that believes everyone deserves to live in healthy, clean, and sustainable environments; plastic pollution is a scourge that must end; and that composting should be easy and widespread.