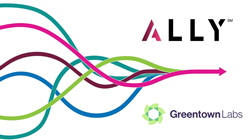 ALLY and Greentown are bringing together operators, service companies and new technologies to create an all-inclusive workforce, one that embraces all forms of energy. - Katie Mehnert, CEO of ALLY Energy
HOUSTON (PRWEB) April 19, 2021
Fresh off its largest digital gathering, Energy 2.0, ALLY‌ ‌Energy‌,‌ ‌the‌ ‌online‌ ‌home‌ ‌for‌ ‌the‌ ‌energy‌ ‌community,‌ announces a new step that will help the entire energy sector transition. ALLY has been selected by Greentown Labs, North America's largest incubator for climate-focused startups, as an inaugural member of its new operation in Houston.
ALLY Energy Founder and CEO Katie Mehnert will be a featured speaker at the grand opening of Greentown Houston on Earth Day -- April 22, 2021-- along with government dignitaries and top corporate executives. A Livestream at 2 p.m. CDT will be available.
"I'm thrilled that ALLY Energy has been accepted by Greentown Labs as a seed stage company preparing to scale," Mehnert wrote on LinkedIn. "We found our 'fit'. Thank you Greentown and to all of its supporters and partners, many of whom are our clients building the energy workforce and technologies of the future."
ALLY will move its offices into the new Greentown Houston facility, part of the city's Innovation Corridor.
"Greentown Labs is thrilled to welcome ALLY Energy," said Dr. Emily Reichert, CEO of the organization based in Somerville, Massachusetts. "ALLY is dedicated to fostering an inclusive energy transition, and Greentown Labs is eager to partner with them on this effort in Houston -- the energy capital of the world -- and beyond!"
Reichert discussed Greentown, its plans for Houston and 'climatetech' on ALLY's podcast, The Voices of Energy.
Since its founding, ALLY Energy has focused on building diversity and equity in the energy sector. In addition to creating a stronger economy, DEI (diversity, equity and inclusion) speeds up efforts to address climate change. "The more people with different backgrounds and perspectives have their voices heard, the more we innovate to drive the transition," Mehnert explains.
ALLY Energy is the leading resource in diverse talent, careers, and culture, creating an inclusive workforce for the energy transition. The global community includes professionals in 120 countries in nearly 1,000 companies across energy in oil and natural gas, utilities, and renewables. Our ALLY Council of 40 organizations connects the energy industry to resources and best practices and is a neutral platform for dialogue and actions to address equity, the environment, and the new economy.
Greentown Labs is a community of climate action pioneers working to design a more sustainable world. As the largest climatetech startup incubator in North America, Greentown Labs brings together startups, corporates, investors, policymakers, and many others with a focus on scaling climate solutions. Driven by the mission of providing startups the resources, knowledge, connections, and equipment they need to thrive, Greentown Labs offers lab space, shared office space, a machine shop, an electronics lab, software and business resources, a large network of corporate customers, investors, and more. Greentown Labs is headquartered in Somerville, MA and has supported more than 330 startups since its founding in 2011. These startups have collectively created more than 6,500 direct jobs and have raised more than $1.2 billion in funding. Greentown's second-ever location will open in Houston, TX, in April 2021.