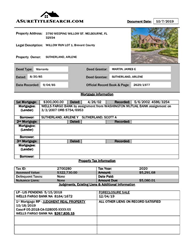 An indispensable resource to reduce risk.
JACKSONVILLE, Fla. (PRWEB) March 02, 2020
A new title search company is making its mark by providing innovative resources to real estate investors across the country. "A Sure Title Search" in Florida has created a custom Critical Foreclosure Information Report (CFI) to help eliminate the risk associated with purchasing auctioned and distressed properties. This unique report fills the gap of much needed information like: Property Equity, Home Owner Association (HOA) Research, Risk Assessment, Pending Cases, Judgments, as well as Additional Owner and Tax Lien Information. The CFI Report is an add-on to the standard Preliminary Title Report. This combination is one of a kind in the industry and allows investors to manage risk like never before.
When it comes to Foreclosure Properties, one of the biggest issues for real estate investors is an unpaid HOA fee. In most states, HOA debt will survive a foreclosure auction. This can create a major problem because rarely, if ever, is the actual debt amount recorded in the Official Records. "A Sure Title Search" has the experience in dealing with HOA's to create a risk assessment for the property of interest. This information shines a much needed light in an area that is usually unclear, giving investors the tools they need to make critical decisions. The title search company leaves nothing to chance and treats each report as if it were their own. Quality control is a top priority and is second to none in the business, delivering in a timely fashion and providing the due diligence to double-check each report for accuracy. The researchers have experience in a multitude of fields including: Foreclosure Auctions, Short Sales, Tax Deeds, as well as all standard real estate transactions.
Buying investment properties through Foreclosure Auctions has become a popular way to find a profitable deal. However, these auctions come with many inherent risks, and knowing your Lien Priority is a must. The innovative tools provided by "A Sure Title Search" can be an irreplaceable asset to your overall risk management plan.