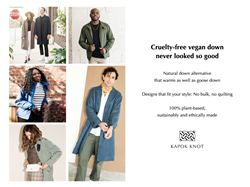 Kapok Knot is a farm-to-fashion brand that believes you should be able to look good, feel good, and do good — all at the same time. Cruelty-free vegan down never looked so good
SAN FRANCISCO (PRWEB) October 21, 2020
A Sustainable Outerwear Revolution: Kapok Knot Launches in the U.S
The Industry's Only Plant-Based Down-Alternative Has Arrived
Available for the first time in the U.S., meet Kapok Knot, a Japanese farm-to-fashion brand that is pioneering cruelty-free down-alternative outerwear. For Fall 2020, Kapok Knot introduces the Kapok Down Harrington Jacket, the Kapok Down Chester Coat, and the Kapok Down Balmacaan Coat. All are insulated with the brand's patent-pending Kapok Down, which opens up unlimited design possibilities for combining fashion-forward styles, performance warmth, and the highest standards of ethics and sustainability.
Kapok Down is a first-of-its-kind blend of 40% kapok fiber and 60% recycled polyester, innovated into a sheeted, wearable-friendly form by founder Kishow Fukai. Kapok fiber is plant-based and renewable, harvested from kapok tree seed pods, with a fill-power comparable to goose down. Its short fibers have made it difficult to commercialize, until now.
Kapok fibers are carefully grown and harvested by farmers in Indonesia, then blended with recycled polyester in China to create the brand's proprietary, highly insulating, easy-to-sew Kapok Down sheets. In Japan, instead of mass market manufacturing, Kapok Knot jackets are sewn by individual craftspeople.
A fourth-generation leader in Japan's apparel business, Fukai grew up questioning the ethics and sustainability of his family's industry, and kapok fiber has proven the ideal medium for innovation: The Kapok Knot brand first launched in Japan to two highly successful crowdfunding campaigns. Fukai aims to improve the garment industry from the inside out, eventually introducing Kapok Down to the manufacturing industry at large and reducing the use of poultry-based down.
Kapok Knot is a farm-to-fashion brand that believes you should be able to look good, feel good, and do good — all at the same time. Cruelty-free vegan down never looked so good.
The fiber
1 year. 1 tree. 30 jackets. One kapok tree makes enough fiber in a single year to make 30 Kapok Down jackets. (Compare that to 30 birds to fill one down jacket!) Kapok Down's innovative slender sheeting opens up unlimited design possibilities.
The sustainability
Kapok Down is the only down-alternative on the market made with only renewable and recycled materials (most synthetic down-alternatives are made from petroleum). At a time when the garment industry is responsible for a whopping 10% of annual global carbon emissions, and climate change's effects are more tangible than ever, Kapok Knot strives for optimal sustainability in its materials and practices and contributes 1% of sales to environmental efforts.
The ethics
Kapok Knot knows exactly where its clothing comes from, from the beginning to the end of the supply chain, treating everyone in the process with respect and dignity.
The styles
Kapok Down Harrington Jacket: Water-repellent and windproof, with a 100% recycled nylon outer. Kapok Down Chester Coat: Durable wool-like outer. Kapok Down Balmacaan Coat: Water-repellent with a statement stand-up collar. All are cruelty-free with the warmth of down, ethically and sustainably made.