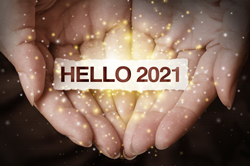 "We have been very blessed throughout the year and we're looking forward to every opportunity 2021 has to offer us. Let's make the most out of it" - Christa Huneycutt, Financial Controller
CHARLOTTE, N.C. (PRWEB) January 04, 2021
This pandemic has created a global shift in the everyday lives of many and has made a significant impact on various industries worldwide. Some industries have seen a decrease in productivity while others seem to be thriving or simply unaffected. As for the construction industry, there were many predictions on what can be expected but there seems to be a general outlook that it won't be drastically affected. Like many contractors, Eudy's Cabinets was able to continue to operate as per usual with some updates to their daily safety protocols.
As some of you may know, they did close their facilities back in April for two weeks to do their part to slow the spread of the virus within the community, practice social distancing and prioritize the health of their staff and their families. Upon their reopening, many of their clients were eager to get their custom cabinet projects completed. The influx of projects proved to be very healthy for business and the team at Eudy's Cabinets were very grateful for this during such difficult times. With the support of their clients and community, they were able to ensure 100% of their staff remained employed. At Eudy's Cabinets, they place a lot of value on being family owned and operated, so they treat everyone as family. Being able to support and provide their employees with peace of mind has been more than they could hope for in all this chaos and uncertainty.
Though the construction industry fared well throughout this pandemic, there have been many businesses that have struggled due to circumstances beyond their control. This has reminded the team at Eudy's Cabinets to not take anything for granted. They've been in the cabinet industry for over 50 years and during that time, they have maintained longstanding and healthy relationships with not only their clients but also home builders throughout the Carolinas. Eudy's Cabinets believes that this is another reason they were able to pull through this year. Their builders know that they can always depend on them to be mindful of the current situation for safe and quality installations of their custom cabinets.
This is a really difficult time for a lot of people and there was a lot of readjusting to do. As we look towards 2021, many promising approaches are in the works in the effort to return our lives to normalcy. Until then, Eudy's Cabinets hopes to remind you that we are going to make it through this. Focus on what's in front of you - Family, God, and your peers. Stay healthy and stay safe!