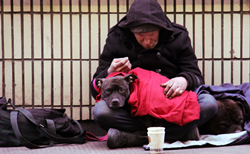 We are beginning to see a shift - a shift back, if you will - to more wholesome values.
MONTREAL (PRWEB) September 19, 2020
Watching the news these days may lead some people to the same gloomy conclusion: That this world is a horrible place. While it might seem like the only things people care about are money and power, and that greed, indifference, or even hatred are everywhere, a study conducted by the researchers at Queendom reveals a ray of hope. Making human connections, taking care of one another, and improving the world is becoming much more important to people than both money and power.
Researchers at Queendom analyzed data from a sample of 1,088 people of different ages and ethnicities who took the Values Profile Test. Here's what people valued the most, in order of importance:

67% of the people value empathy
67% value hard work
65% value their relationships with family & friends
64% value a sense of belonging
62% value stability - a stable job, a steady paycheck, a structured work environment, etc.
60% consider altruism, charity, and giving to others extremely important
57% consider it important to make strong social connections
56% have strong community values - this includes being neighborly, making a positive contribution to society, engaging in important social and environmental work, etc.
55% consider it essential to live a life according to their morals and principles
51% value innovation and advances in technology
47% value career success
39% value knowledge
38% consider financial security important
34% value beauty in different forms, both natural and manmade
33% value creativity
28% value recognition and fame
25% consider religion and/or spirituality important
26% value power
24% value and thrive on competition
15% value compliance and obedience
"We are constantly inundated with news reports on the pandemic, anti-maskers, conspiracy theories, ruthless politics, and mass shootings. This can paint a very dark picture of society, and leave people feeling and believing that the world is hostile and hopeless," explains Dr. Jerabek, president of PsychTests, the parent company of Queendom. "The truth is that we are beginning to see a shift - a shift back, if you will - to more wholesome values. The more negativity we see in the world around us, the stronger the desire seems to get back to what is truly important. When horrible things happen, we pull together -most of us, anyway. And all the tangible things that we once considered important, like money and luxuries, lose their value. When you hear about a mass shooting in a school, all you want to do is go home and hug your children or grandchildren. When you see an injustice in the world, or witness people being treated unfairly, it brings up a deep desire in you to help in some way, or to at least treat your neighbors with more care and respect. At the end of the day, what matters the most is human connection. It's love, generosity, and the desire to live in a better world. This is what the majority of the world values, which is a strong sign of hope, if ever there was one."
Want to assess your values? Check out our Values Profile Test at https://www.queendom.com/tests/access_page/index.htm?idRegTest=3619
Professional users, such as HR managers, coaches, and therapists, can request a free demo for this or other assessments from ARCH Profile's extensive battery: http://hrtests.archprofile.com/testdrive_gen_1
To learn more about psychological testing, download this free eBook: http://hrtests.archprofile.com/personality-tests-in-hr
About PsychTests AIM Inc.
PsychTests AIM Inc. originally appeared on the internet scene in 1996. Since its inception, it has become a pre-eminent provider of psychological assessment products and services to human resource personnel, therapists, academics, researchers and a host of other professionals around the world. PsychTests AIM Inc. staff is comprised of a dedicated team of psychologists, test developers, researchers, statisticians, writers, and artificial intelligence experts (see ARCHProfile.com). The company's research division, Plumeus Inc., is supported in part by Research and Development Tax Credit awarded by Industry Canada.