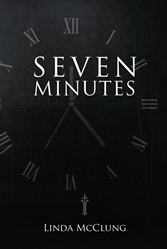 "I have written this book for youth and young adults to show that our God is unchanging and is still the God who cared for Joseph in the book of Genesis."
CLOVER, S.C. (PRWEB) May 24, 2021
The biblical story of Joseph, betrayed and sold into slavery by his brothers, serves as a lasting reminder of God's faithfulness and goodness. In her new book, "Seven Minutes," author Linda McClung offers a contemporary retelling of this scripture, one that centers on a young man named Mick Carter who finds himself in difficult circumstances beyond his control.
Mick is an up-and-coming Christian singer with a passion for spreading the message of Christ through music. After performing his last tour stop in Madison, Wisconsin, Mick is unknowingly targeted by a group of powerful criminals as part of an extortion scheme. He is framed for a serious crime and, upon refusing to pay the sum necessary to have the charges dropped, is found guilty and sentenced to prison for 15 years.
Alone in prison hundreds of miles away from his home in South Carolina, Mick is devastated over the loss of his singing career, reputation and ability to serve as a witness for Christ. However, after praying and reading the bible with his cellmate, JuJu, he discovers an opportunity to minister to the other men in prison. While Mick eventually regains his freedom, he realizes that God put him on this path for a reason and finds a new purpose in spreading the gospel and providing much-needed services to inmates.
McClung was inspired to write "Seven Minutes" to show young readers that difficulties and hardships are a part of life but also opportunities for spiritual growth and fulfillment. Mick's journey demonstrates that, regardless of what readers are going through, they can turn to God and allow Him to use them as part of His plan.
"I have written this book for youth and young adults to show that our God is unchanging and is still the God who cared for Joseph in the book of Genesis," said McClung. "I hope young people will use it for discussion groups and grow in their faith as they struggle with life's hardships."
"Seven Minutes" is also a valuable tool for youth ministry leaders teaching about Joseph, providing an example of how his story might play out in modern times. Whether read independently or together with a youth group, the book illustrates how God works through His children to spread hope and love to those who need it the most.
"[Seven Minutes] catches your attention from the first page and takes you on a journey of deception, fear, forgiveness and redemption," wrote an Amazon reviewer. "It shares the reality of loving the unlovable in the worst of circumstances and showing God's love to everyone…Highly recommended!"
"Seven Minutes"
By Linda McClung
ISBN: 9781664224346 (softcover); 9781664224339 (hardcover); 9781664224353 (electronic)
Available from Amazon, Christianbook.com and WestBow Press
About the author
Linda McClung grew up on a farm in Virginia and attended Virginia Baptist Hospital School of Nursing. After her marriage, she moved to New Jersey and worked as a registered nurse while also being a full-time mother to three children. She attended The College of New Jersey to obtain her Bachelor of Health Education degree and Seton Hall University to obtain a Master of Science in Nursing Administration. After moving to South Carolina to retire to lakeside living, she began to write stories, which often feature her grandchildren. Each story is intended to teach teens and tweens important lessons of God's never-failing love for us. To learn more, please visit lindamcclung.com or connect with her on Facebook and Instagram.
Review Copies & Interview Requests:
LAVIDGE – Phoenix
Leslie Standridge
480-998-2600 x 586
lstandridge(at)lavidge(dot)com