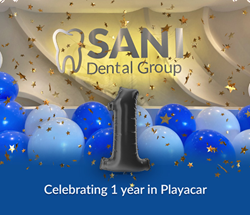 PLAYA DEL CARMEN, Mexico (PRWEB) March 12, 2021
Sani Dental Group Playacar celebrates its first anniversary by recognizing all of its doctors, partners, collaborators, and patients who have participated in its first year of operations.
After they arrived in Playa del Carmen in 2020, they have developed and positioned themselves as one of the best dental clinics in the region. Their 30 years of experience in the dental sector, their highly qualified staff, and first-class facilities, have been an important factor in this achievement.
Their success is also based on providing all patients with a complete dental experience, providing support from the first telephone contact, resolving all their questions, and arranging their appointment until they arrive at the clinic.
Despite the current sanitary contingency, they have adapted their facilities to safeguard the health of their patients and collaborators. They have created protocols and safety guidelines to combat the spread of COVID-19, making their facilities the safest to visit.
Sani Dental Group thanks all local and international patients who throughout this year have trusted them, allowing them to provide a first-class dental service. Likewise, they thank their promoters, who day by day work as a team to improve the quality of life of thousands of patients.
They are very happy to have worked with so many patients in their first year of operations and are ready to continue creating smiles in the community at Playa del Carmen.