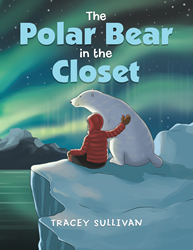 CLEARWATER, Fla. (PRWEB) May 03, 2021
Exploring far-away lands and constructing exciting new worlds requires only one thing: a powerful imagination. In her new book, "The Polar Bear in the Closet," award-winning children's author Tracey Sullivan tells the story of Scotty, who embarks on an assortment of breathtaking treks with his friend, Poley, from his own backyard.
Scotty is a bright and playful kindergartener who finds creative inspiration everywhere in the world around him, including in his neighbor Miss Cora's, pet, Poley. While Scotty has never met Poley, he catches glimpses of snow-white fur through Miss Cora's window and imagines an affable, fun-loving polar bear, one that accompanies him on an array of exciting adventures, from playing ice hockey with a team of seals to watching the glittering rainbows of the Northern Lights.
Scotty's action-packed stories bring him closer to his classmates, who are eager to meet the magnificent Poley for themselves. After Scotty receives permission from his teacher, Miss Gracie, to bring Poley to school, his mother devises a plan to bring the two together at last. Upon discovering that Poley is a dog, Scotty's excitement soars for both his new friend and the adventures yet to come.
Through "The Polar Bear in the Closet," Sullivan encourages young readers to embrace their creativity, curiosity and unique perspectives and reminds adults that children see the world as a magical place with limitless possibilities. By emphasizing the role that parents, guardians and teachers play in nurturing this vision, she encourages them to continue to engage with their child's imagination and contribute to its healthy growth.
A delightful story with charming illustrations, "The Polar Bear in the Closet" demonstrates how an active imagination can help children overcome their timidness, form new friendships and find excitement in everyday occurrences.
"The Polar Bear in the Closet"
By Tracey Sullivan
ISBN: 9781716438820 (softcover); 9781716438837 (hardcover); 9781716438813 (electronic)
Available from Amazon, Barnes & Noble and Lulu
About the author
Tracey Sullivan is an award-winning author of children's books that emphasize the power of determination and imagination. Her books include the "Tebow Tails" series: "Tebow Tails: Caspar's Conquest" and "Tebow Tails: Parker's Pride." She earned master's degrees in elementary education and accounting from the University of South Florida and the University of Florida, respectively, and worked as a math professor at St. Petersburg College. She has two grown children, Scott and Jessica, and lives in Clearwater Beach, Florida. To learn more about Sullivan and her books, please visit tebowtails.com.
Review Copies & Interview Requests:
LAVIDGE – Phoenix
Leslie Standridge
480-998-2600 x 586
lstandridge(at)lavidge(dot)com