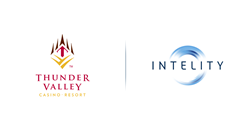 "Our top priority is to ensure guests have safe, 24/7 access to everything the resort has to offer at their fingertips," said Joel Moore, VP of Hotel Operations.
LOS ANGELES (PRWEB) November 06, 2020
INTELITY®, the developer of hospitality's most comprehensive guest experience and staff management platform, announced today a new deal with Thunder Valley Casino Resort in Lincoln, California. The AAA Four-Diamond property will deploy the full INTELITY platform, embracing mobile, in-room, and staff technology in an innovative overhaul of their operations and guest experience.
From before they even arrive for their stay until they depart, resort guests will have access to a full-flow digital experience, thanks to in-room tablets and a branded mobile app. When the platform is in place, guests will be able to skip the front desk and check in directly from their smartphone. Upon reaching their room, they'll be able to activate a digital room key, and enter without a single point of contact.
Once in their room, a luxury 10-inch tablet will be available to further cater to their every need, giving them control over their room's lighting and thermostat, as well as digital access to everything the resort has to offer. From then on—whether they're in their room or on the casino floor—guests will be able to book activities, make reservations, order food, and more, all from their own device or their in-room tablet. Then, when it's time to check out, it'll simply be a matter of digitally viewing their folio and clicking to check out—leaving the same way they came, without unnecessary contact.
"Our top priority is to ensure guests have safe, 24/7 access to everything the resort has to offer at their fingertips," said Joel Moore, VP of Hotel Operations at Thunder Valley Casino Resort. "That's why we're excited to give guests unparalleled convenience and peace of mind by implementing the INTELITY platform. By offering contactless services and mobile capabilities, we're ensuring they have what they need to create a memorable experience."
At the same time, the INTELITY platform's suite of staff management tools, GEMS®, will help automate procedures and save valuable staff time. Thanks to deep business insights captured in the platform, the team will be able to propel ongoing process improvements, giving employees the tools and time to deliver even better guest service.
The award-winning resort will also be able to customize messaging and promotions for special events and groups, providing unique opportunities to personalize experiences and connect the hotel with the casino floor, driving revenue and satisfaction. And as health concerns remain in play, the communication and contactless capabilities offered by the INTELITY platform will enable essential protection for guests and staff.
"It's no wonder Thunder Valley Casino Resort has consistently been named a Four Diamond resort by AAA," said Benjamin Keller, INTELITY SVP of Sales. "This is an exceptional resort that truly understands what's next for the hospitality industry and is taking an innovative step forward, enhancing every part of both the guest and staff experience to ensure the highest levels of safety and satisfaction to everyone who steps foot on the property."
To find out more about this deal or the INTELITY platform, visit http://www.intelity.com.
About INTELITY
INTELITY is the global provider of the most advanced hospitality technology platform for the hotel, casino, cruise, and luxury residential markets. INTELITY offers its customers comprehensive, fully integrated solutions to better connect and manage their guest experience and staff operations in a single platform. INTELITY has been named the "Official Mobile and In-Room Technology Provider" by the distinguished Forbes Travel Guide in 2017, 2018, and 2019, and is in use by major hotel groups, including Marriott, Fairmont, Four Seasons, Hard Rock, and more. For more information or to view current job openings, please visit http://www.intelity.com.
About Thunder Valley Casino Resort
Thunder Valley Casino Resort is owned and operated by the United Auburn Indian Community, opening in June 2003. Located 30 miles east of Sacramento, Thunder Valley offers 250,000 square feet of gaming space–including over 3,000 of the latest slots, 100 table games and a live poker room with space for up to 450 players. The resort features award-wining restaurants and bars capable of satisfying any craving, and is home to a luxury, 17-story award-wining hotel with all of the plush amenities. Coconut Pool and Bar offers seasonal outdoor relaxation with private cabanas, hi-def TVs, pool side lounges and welcoming food and beverage service. Spa at Thunder Valley features a wide variety of treatments including customized Swedish and Deep Tissue pressure point massage therapy, manicure and pedicure treatments, hydrating facials, and a lot more. For more information on upcoming promotions or to make a dining or room reservations at Thunder Valley's AAA Four Diamond resort, visit http://www.thundervalleyresort.com.