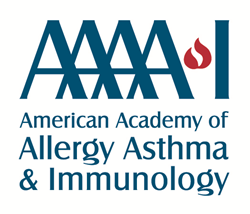 "While it still needs to pass the Senate before it can be signed into law, this bill will do several things to improve the health and safety of Americans living with food allergies." - AAAAI President Mary Beth Fasano, MD, MSPH, FAAAAI
MILWAUKEE (PRWEB) November 17, 2020
The Food Allergy Safety, Treatment, Education, and Research (FASTER) Act (H.R. 2117), a bill supported by the AAAAI, passed the House of Representatives today with a unanimous voice vote. The FASTER Act directs the Centers for Disease Control and Prevention (CDC) to expand data collection of information related to food allergies and specific allergens, and revises the definition of major allergen to specifically include sesame. House Energy and Commerce Committee Chairman Frank Pallone (D-NJ), Ranking Member Greg Walden (R-OR), and Representative Doris Matsui (D-CA) spoke in support of the bill.
"The AAAAI joins with our Patient Advocacy Organization partners in celebrating the news that H.R. 2117 has successfully passed the House of Representatives," said AAAAI President Mary Beth Fasano, MD, MSPH, FAAAAI. "While it still needs to pass the Senate before it can be signed into law, this bill will do several things to improve the health and safety of Americans living with food allergies, including revising the definition of major allergens to include sesame, which is tremendously significant."
H.R. 2117 is sponsored by Representative Doris Matsui, who was joined by more than 90 bipartisan cosponsors. "Food allergies impact the daily lives of so many Americans, including our friends and family members," said Congresswoman Matsui. "Some of these food allergies can be serious and potentially be life-threatening diseases, and it's become abundantly clear to me that we need more research and evidence-based solutions to help understand, treat, and maybe one day prevent food allergies. I hope this legislation will provide progress treating allergies and improving the lives of those suffering from them."
The AAAAI continues to advocate for congressional adoption of H.R. 2117 which would advance recommendations from the National Academy of Medicine report "Finding a Path to Safety in Food Allergy: Assessment of the Global Burden, Causes, Prevention, Management, and Public Policy," including strengthening data collection on the prevalence of food allergies, and adding sesame to the list of allergens required to be listed on food labels, as well as providing flexibility for the Secretary of Health and Human Services to add any other food ingredients determined by regulation to be a major food allergen. The AAAAI joins its stakeholder partner FARE in support of this important legislation.
Passage of the FASTER Act comes after the Food and Drug Administration (FDA) recently issued a draft guidance titled "Voluntary Disclosure of Sesame as an Allergen". The document encourages food manufacturers to voluntarily declare sesame in the ingredient list on food labels. Comments on the draft guidance are due January 11, 2021. Additionally, the recently released Senate appropriations bill included a statement about allergen labeling expressing concern that the FDA has failed to take further action to require labeling for sesame and urging the agency to act swiftly to address this risk by requiring the same labeling for sesame as other major food allergens. Also included was report language requested by the AAAAI and other stakeholders which recognizes the prevalence of food allergy in the pediatric and adult communities, commends the ongoing work of the National Institute of Allergy and Infectious Diseases (NIAID) and the Consortium of Food Allergy Research (CoFAR), and encourages the NIAID to expand its clinical research network to add new centers of excellence in food allergy clinical care and to select such centers from those with a proven expertise in food allergy research.
AAAAI's professional governmental relations team and physician leadership continue to make a priority of encouraging federal research support for food allergies and related advocacy activities.
You can learn more about food allergies on the American Academy of Allergy, Asthma & Immunology website, aaaai.org.
The American Academy of Allergy, Asthma & Immunology (AAAAI) represents allergists, asthma specialists, clinical immunologists, allied health professionals and others with a special interest in the research and treatment of allergic and immunologic diseases. Established in 1943, the AAAAI has more than 7,100 members in the United States, Canada and 72 other countries. The AAAAI's Find an Allergist/Immunologist service is a trusted resource to help you find a specialist close to home.
###