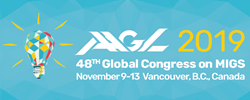 CYPRESS, Calif. (PRWEB) October 29, 2019
American Association of Gynecologic Laparoscopists (AAGL) announces it will host a series of telesurgery sessions at the 48th Annual Global Congress on Minimally Invasive Gynecologic Surgery (MIGS), November 9-13, 2019 at the Vancouver Convention Centre – West (1055 Canada Pl, Vancouver, BC V6C 0C3, Canada) in stunning Vancouver, B.C., Canada. Leading the session is renowned Laparoscopic Colorectal, Gynaecological and Oesophageal cancer surgeon, Shailesh P. Puntambekar, MD, who will demonstrate by video, an intricate laparoscopic uterine harvest followed by a uterine transplant. In May 2017, Dr. Puntambekar made history when he performed a uterus transplant donated by a mother to her daughter, that resulted in the birth of a premature baby girl, the first successful uterine transplant baby born in India and Asia.
During the pre-recorded video presentation, Dr. Puntambekar will demonstrate his technique of uterine transplant utilizing laparoscopy resulting in reduced bleeding in the patient. The presentation will conclude with a step-by-step guide on the transplantation of a uterus, a surgery that Dr. Puntambekar reduced from 20 hours to 3 in duration. "We were able to achieve this due to three reasons," said Dr. Puntambekar. "We made the procedure more efficient, used laparoscopy for the donor retrieval and our extensive experience of radical hysterectomy helped us with the anatomy."
Laparoscopic retrieval of the uterus from a donor provides shorter surgical time and lesser morbidities for donor surgery. The patient benefits with improved vascular anastomoses, in turn, reducing chances of rejection. Laparoscopic retrieval helps with better visualization, and replicable steps for all gynecological surgeons. All these benefits aid in quicker recovery of both the donor and patient.
Uterine transplant offers hope to women with Absolute Uterine Factor Infertility (AUFI) and a chance at motherhood. Dr. Puntambekar is now on his 9th transplant resulting in one live birth; two pregnancies and one rejection due to vessel thrombosis after one year. "This procedure will impact the world of gynecological surgery as we know it today. Of all the radical surgeries performed laparoscopically this is just one enormous step forward and will set the precedence for the future."
AAGL's congress is the premier scientific conference for gynecologic surgeons from around the world, offering the latest education and best practices in minimally invasive gynecologic surgery. This year the congress is expected to welcome over 2,000 physicians, both domestic and international, for the collegial 5-day gathering. Additionally, 65 companies will be exhibiting, and 1,000 industry representatives and executives will be in attendance. The AAGL Global Congress is the ideal conference for medical device, technology, innovation, and product launches. For more information on the 2019 AAGL Congress visit 2019.aagl.org
About the AAGL:
The AAGL (http://www.aagl.org) is the first, and one of the largest, organizations in the world dedicated to gynecologic endoscopic surgery. Founded in 1971, AAGL works to advance the safest and most efficacious diagnostic and therapeutic techniques that afford less invasive treatments for gynecologic conditions through the integration of clinical practice, research, and innovation. For the past 48 years, the organization has educated the world's finest surgeons while improving the lives of women everywhere. For more information visit http://www.aagl.org.
Media Contact:
Annie Rivera
AAGL
714-503-6200 x244
arivera@aagl.org | http://www.aagl.org
Feature quote: "This will impact the world of gynecological surgery as we know it today. Of all the radical surgeries performed laparoscopically this is just one enormous step forward and will set the precedence for the future."