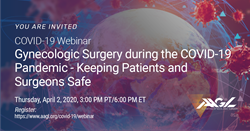 "This webinar is slated to be an engaging and informative discussion from leading surgeons on the frontlines of the COVID pandemic." -Jubilee Brown, MD, AAGL President
CYPRESS, Calif. (PRWEB) April 02, 2020
AAGL Gynecologic Surgeons host a global webinar on Thursday, April 2, 2020, 3:00 pm PT/6:00 pm ET- to discuss surgical safety practices in response to the COVID-19 crisis.
AAGL frontline surgeons from John Hopkins Hospital in Maryland, Louisiana State University Healthcare Network in New Orleans and Amsterdam University Medical Center in the Netherlands will discuss what every gynecologist needs to know about safe surgery and perioperative care during the COVID-19 Pandemic, including: background on the virology principles impacting our healthcare delivery, information about impact of COVID-19 on a surgical setting, methods to mitigate risks and how to nimbly adapt perioperative care during this crisis.
Moderators: Sarah L. Cohen, MD, MPH of the Mayo Clinic in Rochester, Minnesota and Amanda Nickels Fader, MD of Johns Hopkins Hospital in Baltimore, Maryland will oversee the discussion and facilitate a question and answer session from physicians listening live from around the world. Faculty include: Robert A. de Leeuw, MD, PhD, Amsterdam University Medical Center, Amsterdam, Netherlands Stacey A. Scheib, MD, Louisiana State University Healthcare Network, New Orleans, Louisiana, Rebecca L. Stone, MD, MS, John Hopkins Hospital, Baltimore, Maryland, David L. Thomas, MD, MPH, John Hopkins Hospital, Baltimore, Maryland.
"This webinar is slated to be an engaging and informative discussion from leading surgeons on the frontlines of the COVID pandemic." -Jubilee Brown, MD, AAGL President
This webinar training will be available live on AAGL's Online Video Platform, SurgeryU. The event is available to the public and registration is complimentary. Visit: https://bit.ly/2UW38iS for more information.
#
AAGL is a professional medical association of laparoscopic surgeons and is the global leader in minimally invasive gynecologic surgery. AAGL's mission is to elevate the quality and safety of health care for women through excellence in clinical practice, education, research, innovation and advocacy. The AAGL is accredited by the Accreditation Council for Continuing Medical Education (ACCME) to provide continuing medical education for physicians. Find out more about the AAGL at: http://www.aagl.org.