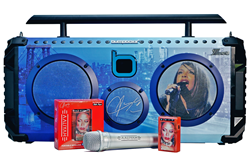 "Bumpboxx really melds the 90's and the vintage style of boombox's from way back and bring it into today's era with an incredible product. This collaboration really reflects what my sister represented, which was innovation."- Rashad Haughton
LOS ANGELES (PRWEB) January 15, 2021
Bumpboxx® will release a limited-edition Flare6 Bluetooth Boombox with microphone and a Retro pager celebrating Aaliyah's 42nd birthday. The 2021 Aaliyah Bluetooth Boombox will be sold at bumpboxx.com.
Bumpboxx® worked closely with Aaliyah's estate, including her brother Rashad Haughton, to design the Aaliyah Themed Bluetooth Boombox featuring pictures of the late artist. The partnership includes promotional support from her brother, Rashad and her dear friend, DMX! Aaliyah fans will be able to purchase The limited edition Bumpboxx Flare6 with mic and Bumpboxx Retro Pager will both go on sale for her birthday on Saturday, January 16th, 2020, 9AM PST.
"Aaliyah was a star in everything she did. We couldn't be more excited to announce that she is the Second Female artist to be celebrated in the Bumpboxx Legend Collection."
--Bumpboxx®
About Bumpboxx®
Bumpboxx® established in 2016 brings back the old school swagger with new school technology to provide products with quality sound. Bumpboxx ® provides the latest in specialized personal home and outdoor audio equipment, perfect for streaming all your favorite music. For more information about Bumpboxx®, visit http://www.bumpboxx.com.