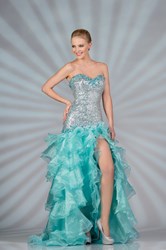 Los Angeles, California (PRWEB) December 06, 2013
Known as one of the most popular online retailers of women's dresses on the web, Abby Dresses is pleased to unveil the "Cinderella Dearest Doll Long Dress" as one of the many dresses currently on sale.
Abby Dresses is a relatively new apparel company that specializes in providing top-notch dresses at affordable rates. Whether a woman is looking for a bridesmaid dress for her bridal party, or a modest dress for her pregnant sister, Abby Dresses has it all. Renown for offering celebrity dresses that rival those sold at Forever 21, Simply Dresses and Dress Barn, Abby Dresses is fast becoming one of the top names in online shopping. With a focus on quality and style, Abby Dresses still manages to offer cheap dresses to their shoppers.
Seasoned shoppers know that to get the best deal, the first place to check is the "On Sale" tab. Abby Dresses regularly offers up popular dresses at very affordable rates. This gives every woman the chance to own the dress of their dreams. For example, the aforementioned "Cinderella Dearest Doll Long Dress" boasts a sweetheart neckline and a natural waistline cut. The asymmetrical sequined skirt flows to the ground, flashing onlookers a little peek at the wearer's legs. This strapless dress also has a beautiful form fitting bodice. Even with the high quality workmanship and extensive detail put into the creation of this dress, the "Cinderella Dearest Doll Long Dress" is only going for less than $173. With incredible prices such as these, it is no wonder why Abby Dresses is fast becoming a household name amongst fashionistas and shopaholics.
Whether one is looking for something specific like a pink prom dress, or something a little more vague like a modest cocktail dresses, Abby Dresses has it all. The site even plays host to a slew of designer dresses and celebrity dresses. According to one of Abby Dresses' top stylists, there are certain things that an online shopper should take into account when shopping for party dresses online.
1. Be Opinionated
Buyers should only fork out the money for a dress that they really like. There is no point in buying something that will only be used once. Hence, even if the buyer has to browse through the website for hours, it will be worth the time spent. If the buyer finds it difficult to choose between several dresses, there is absolutely nothing wrong in getting a second opinion. Be it from a friend, colleague, or mother, two pairs of eyes are always better than one.
2. Be Open
Even though the buyer may have something specific in mind, there is no harm in widening the search in order to find the perfect dress. For example, the buyer may be set on picking out a sleek black prom dress, but should something else come along, there is no harm in deviating from the initial plan and settling for a pink ruffled prom dress instead.
3. Be Thrifty
Never overpay for a dress, especially if it is only going to be worn once. It is important to stick to a pre-determined budget to ensure that not too much money is spent. However, it is perfectly fine to splurge on a dress that will be worn multiple times, such as a cocktail dress or a party dress.
To catch a glimpse of the other beautiful dresses on sale such as holiday dresses, contact Abby Dresses through their website at abbydresses(dot)com or call 1-877-913-6539.