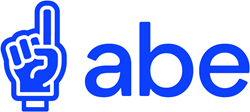 PHILADELPHIA (PRWEB) January 07, 2020
abe, a betting intelligence company, today announced the official launch of its odds comparison engine, a free online and mobile tool for comparing real-time betting odds aggregated from legal sportsbooks operating in the United States. abe is designed to help sports bettors gain an edge by providing the information needed to make smarter wagers that deliver greater returns.
"Consumers today can easily compare prices before booking a flight or buying anything online– abe now brings that concept to the burgeoning world of sports betting," said Brian Goldstein, CEO and founder of abe. "With the ability to view and compare different odds across multiple sportsbooks on one platform, bettors can easily discover which book offers the best payout on any given wager."
abe streamlines the betting process by providing users with all the information they need to make informed betting decisions. In addition to the odds comparison engine, abe curates and aggregates the best promotions currently offered by a growing list of legal sportsbooks, helping users take advantage of the most lucrative deals. While the majority of betting-related sites are intimidating and confusing to new users, abe offers engaging content that helps visitors learn how to bet in less than five minutes.
"A bettor using abe can enjoy as much as a 30 percent increase in winnings from a single wager," Goldstein continued. "Bettors who use only one sportsbook are leaving money on the table. Bouncing back and forth between multiple sites is a tedious process. With one clean, user-friendly interface, abe makes it easy to find the best odds for any upcoming matchup."
abe is independently owned and operated, making it a trusted provider of truly unbiased and impartial sports betting intelligence. The platform maintains a comprehensive database of legal, U.S. sportsbooks and is the only odds comparison tool where users can search for specific sporting events and link directly to sportsbooks to place bets. In the coming months, abe will continue to evolve through the introduction of new data- and research-driven features, tools and content to help users bet smarter, including historical odds analysis and customized bet tracking.
abe launches as the legalization, popularity and growth of online sports betting continues to take hold. In less than two years since legalization, for example, New Jersey bettors have wagered nearly $3.8 billion, with 85 percent of activity now taking place online. Experts estimate that $150 billion of illegal wagers are placed each year, suggesting exponential growth in legal channels as states continue to pass legislation.
"As the legalization of sports betting continues across the U.S., millions of new sports bettors are expected to enter the market and join in the action," said Goldstein. "With abe, we are creating the single data and analytics platform that every bettor should visit before placing a bet."
About abe:
abe is independently owned, licensed in states where online betting is currently legal, and completely free to users. The company integrates data from a growing roster of sportsbooks as more states prepare to legalize sports gambling in the coming months. Find out more at abebets.com.