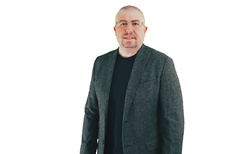 "Damian's arrival marks a new era for Abel Communications as we fully commit to a model of client service that will incorporate creative and digital services as a core part of our offerings." - Greg Abel, founder and CEO of Abel Communications
BALTIMORE (PRWEB) December 15, 2022
Abel Communications, an award-winning public relations firm, is pleased to announce the hiring of Damian Rintelmann as chief digital officer and creative director. In his new role, Rintelmann is leading the growing firm's creative and digital offerings and teams, while occupying a leadership role with the firm's executive team.
"Damian's arrival marks a new era for Abel Communications as we fully commit to a model of client service that will incorporate creative and digital services as a core part of our offerings," said founder and CEO Greg Abel. "We have always focused on the goal of connecting our client's messages with their audiences in the most effective ways possible. Having someone with Damian's skills, background, and marketing expertise immediately expands our ability to do so in new and exciting ways."
Rintelmann is an award-winning creative technologist and brand strategist with over 20 years of experience in the technology, marketing and operations industries. He has held positions at numerous prominent companies including Weber Shandwick, Delucchi Plus, and Webbmason Marketing. Most recently, Rintelmann served as the builder-in-residence for Olive Ventures creating forward thinking technology solutions in healthcare.
Rintelmann also previously founded creative services firm, Catalyst Labs in 2016, an independent marketing firm that worked with national clients on activities including brand development, website design, and video production.
"I am incredibly excited to join the Abel team and help grow what is already a great agency to new heights," said Rintelmann. "Greg and I are aligned on the need for clients to tell their stories in diverse and interesting ways in order to grab attention in a distracted world. We have a fantastic base from which to build and I am looking forward to bringing exciting new services to the firm."
Specific new and expanded services that Abel Communications will offer under Rintelmann's leadership include brand strategy, digital content creation, video production, digital experiences, and other creative services.
About Abel Communications
Abel Communications is a full-service public relations firm, delivering strategic communications programs for regional and national clients in sectors including health and wellness, professional services, and local and regional brands. The firm provides strategic counsel to help clients navigate the intersection of media relations, content development, social media and digital strategy. For more information, visit https://www.abelcommunications.com.