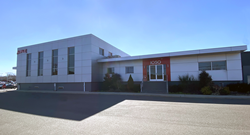 "We are very excited about our new credit facility with M&T Bank." said Steve Laganas the Chief Executive Officer and Founder of ABLE. "The transaction was nicely oversubscribed and helps to position ABLE for continued growth and success."
DEER PARK, N.Y. (PRWEB) March 05, 2020
ABLE Equipment Rental, Inc. of NY (ABLE) a supplier of Construction Equipment Rentals, Sales, Service and Parts, announced the closing of a $150 million Asset Based Loan with M&T Bank as Lead Arranger and Administrative Agent. The facility is comprised of a $100 million revolving line of credit as well as a $15 million term loan facility. Additionally, the transaction provides ABLE with a $35 million accordion feature. The credit facility will be used to refinance existing indebtedness, purchase rental fleet and provide working capital, as well as for general corporate purpose.
"We are very excited about our new credit facility with M&T Bank," said Steve Laganas the Chief Executive Officer and Founder of ABLE. "The transaction was nicely oversubscribed and helps to position ABLE for continued growth and success."
Chris Pera, the Company's Chief Operating Officer, noted, "This new loan agreement leverages all of the hard work and sweat equity that the ABLE Team has built in its fleet over many successful years of operation."
"The M&T Team was great to work with," added ABLE's Chief Financial Officer Thomas Caldaroni. "M&T delivered 100% on the proposed structure that was presented to ABLE when we went to market for a new credit facility."
About ABLE Equipment Rental
Founded in 1996, ABLE Equipment Rental is privately owned with 6 locations. Corporate headquarters are based in Deer Park, NY. ABLE provides Rentals, Sales, Service and Parts, as well as applications for critical infrastructure maintenance and support, contingency planning and disaster recovery. ABLE's fleet of service vehicles provides emergency service and repairs to both corporate and customer owned equipment. ABLE's locations serve the northeast markets of NY, NJ, CT, PA, DE and MD. For more information on ABLE Equipment Rental, visit ableequipment.com or send an email to info@ableequipment.com.
RELATED LINKS
ableequipment.com
facebook.com/ableequipment
instagram.com/ableequipmentrental
LinkedIn.com/ableequipment