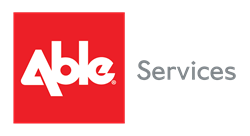 Health and safety is the number one priority for our employees, clients and communities
SAN FRANCISCO (PRWEB) April 23, 2020
Able Services joins with six other organizations in the contract cleaning sector to establish the Cleaning Coalition of America. The Coalition represents the needs of an often-overlooked sector playing a vital role keeping essential services operating during the coronavirus crisis. As the country moves past this crisis to get back to business, the contract cleaning sector will again be on the front lines. Cleaners will be disinfecting workspaces, schools, airplanes, shopping centers, stadiums and other public spaces to prepare them for widespread use, reestablishing the public's trust in the systems that underpin society.
"Health and safety is the number one priority for our employees, clients and communities. We're looking to preserve jobs and maintain access to much-needed personal protective equipment for our workers, so that they can continue to do their jobs which are an essential part of getting the American economy moving again," said J. Paul Saccone, Chief Executive Officer of Able Services, a Coalition Board Member.
The contract cleaning service industry employs more than one million workers in every state in the country, and it has been hard hit by the economic impact of the coronavirus crisis. Accordingly, the Coalition is asking Congress and the Administration to support targeted measures that will help ensure the continuity of business operations and the employment of its essential workforce.
For more information about the Cleaning Coalition of America, please visit CleaningCoalition.org.