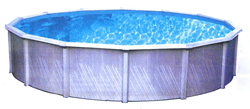 Dive Into Discounts on Pools and Spas
Atlanta, Georgia (PRWEB) May 10, 2016
Pool and Spa Clearance Center Announces above ground pools for sale (http://poolandspaclearancedeals.com/) in the 13 county metro Atlanta area. This company specializes in installing above ground pools for homeowners who want the fun in the sun with poolside activities, without the major time and financial commitment of an in ground pool. Besides getting a great discount on an above ground pool, these pools are installed quickly and easy to move, dismantle and reinstall if the homeowner changes residences.
Pool and Spa Clearance Center is currently running a great sale on above ground pools, including their reasonable Splasher style pool, Silver Oak pool and the Evolution Above Ground Pool. The latter comes with a lifetime warranty, made with the best materials including stainless steel for service panels, resin walls and a textured Crystal coat sealant that adds extra protection for all the different weather conditions. This pool is built to last and impress. This is one of the best above ground pools for sale (http://poolandspaclearancedeals.com/).
Pool Spa and Clearance prides their work ethic with affordable pools and excellent customer service. Clients can speak directly to a pool specialist who will come to the home, assess the property and potential size of the pool, while making any customizations to build the pool to the client's specifications. It's not too late to lay poolside in a brand new above ground pool in the backyard.
To get started with a new pool, inquiries can be made directly on the company's website (http://poolandspaclearancedeals.com) by submitting a short request form. Best of all, there is special financing available for qualifying applicants making it even easier to receive the new deal on above ground pools for sale.
About Pool and Spa Clearance Center
Our professional and courteous staff has more than 30 years of experience in all areas of the recreational industry including manufacturing, distribution, sales and on the job experience of installing in ground and above ground pools, as well as maintenance and service on all products. With our extensive experience and knowledge, we are able to troubleshoot any issue and reducing the margin for error.
Phone: (706) 335-7234
Website: http://poolandspaclearancedeals.com/