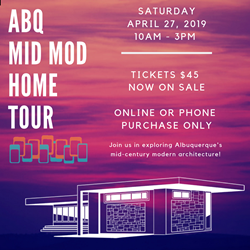 ALBUQUERQUE, N.M. (PRWEB) March 06, 2019
Close your eyes and envision a residential street in Albuquerque. Your mind may see only stucco and vigas, but neighborhoods developed during Albuquerque's expansive mid-century period are home to some surprising mid-century modern gems.
Albuquerque is now the latest city to plan a home tour around its mid-century modern residential architecture, joining the ranks of Palm Springs, Phoenix, and Denver in showcasing its recent past. The ABQ Mid Mod Home Tour will be hosted by Modern Albuquerque LLC in collaboration with Ted Janka of CHED Designs on Saturday, April 27 from 10 a.m. to 3 p.m.
Architecture is a key driver in New Mexico tourism, but the state's modern architecture is an untapped resource. Best-known for Spanish Pueblo and Territorial Revival style architecture, Albuquerque has a remarkably large inventory of mid-century buildings, including homes. Modern Albuquerque's Director of Guest Experience Ethan Aronson points to the reason, "the city's population between 1950 and 1960 ballooned from just over 97,000 people to over 201,000. Housing had to be built to accommodate that many people."
The architects and builders responsible for that task weren't always interested in creating a sense of place with traditional New Mexican architecture, architecture that not all new Albuquerque residents embraced. Merchant home builders especially tracked national trends in home design, while architects crafted custom concepts for their clients that were site-specific. The four houses featured on the ABQ Mid Mod Home Tour were carefully selected to represent both architect-designed and merchant builder-marketed homes and are situated in neighborhoods alongside other exemplary mid-century properties.
Details and tickets to the ABQ Mid Mod Home Tour are available on Modern Albuquerque's websites http://www.modernabq.org and http://www.retrogradetours.com.
CONTACT: Ethan Aronson, (505) 596-0433, ethan@modernabq.org