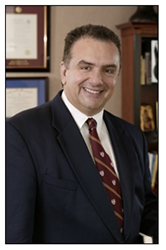 "I am deeply honored and excited to lead ABQAURP's board of directors as we continue to advance the organization's mission…"
NEW PORT RICHEY, Fla. (PRWEB) August 19, 2020
The American Board of Quality Assurance and Utilization Review Physicians, Inc. (ABQAURP) announces Dr. Nick J. Paslidis as new Chairman of the Board. The transition is effective July 21, 2020, in conjunction with the retirement of Chairman, Dr. Arthur Broder, after over thirty years of dedicated service to the organization.
Always a judicious steward of health care quality, patient safety, and workers' compensation, Dr. Broder supported the growth of ABQAURP to a leading provider of ACCME-accredited education and Health Care Quality and Management (HCQM) Certification. ABQAURP is sincerely grateful to him for his guidance and dedication to the mission of the board.
Dr. Paslidis succeeds Dr. Broder as Chairman of the ABQAURP Board of Directors after serving as Vice Chairman since 2006 and is excited to begin this new tenure.
"I am deeply honored and excited to lead ABQAURP's board of directors as we continue to advance the organization's mission with revitalized focus on the organization's programs and services. We will strive to keep health care quality and patient safety in the forefront to ensure the highest level of care for patients and to prevent all patient harm. We look forward to propelling ABQAURP into the future."
In conjunction with this leadership change, Dr. Joseph G. Vitolo, Dr. Sunil K. Sinha, and Dr. David L. Fishman succeed to the roles of Vice Chairman, Secretary, and Treasurer, respectively.
About ABQAURP's Officers
Nick J. Paslidis, MD, PhD, MHCM, FACP, CHCQM, FABQAURP
Chairman of the Board
Dr. Paslidis is a Senior Medical Director for Molina Healthcare regarding Medicare and Medicaid Managed Care Services since 2012, along with a continuous part time private practice for over 32 years. Early in his career, as a staff physician then medical director for rural health centers, he discovered an ability to convene diverse medical providers and organizations in collaborative efforts to improve quality of care at both the state and national levels. His commitment to patients and quality care is demonstrated by his vast service on the board of directors for many committees, specialty societies, and various organizations throughout his career. Dr. Paslidis served as CEO for Arkansas' Quality Improvement Organization (AFMC) and CMO at Northern Arizona Healthcare.
Joseph G. Vitolo, MD, FAPA, FASAM, CHCQM, FABQAURP
Vice Chairman
Dr. Vitolo is a Physician Advisor/Medical Expert for the New Jersey PRO, in addition to his consultation-based private practice, also providing consultations for Disability Determinations and Vocational Rehabilitation. Also a Federal Contractor in the System of Award Management and the Social Security Administration, Dr. Vitolo is certified by the American Board of Psychiatry and Neurology, the American Board of Addiction Medicine, the American Society of Addiction Medicine, the American Board of Disability Analysts, the National Association of Disability Examiners, and ABQAURP. He serves on several ABQAURP committees, including Chair of the HCQM Exam, Credentials, and Nominating Committees, in addition to serving as Vice Chairman.
Sunil K. Sinha, MD, MBA, CHCQM, FACHE, FABQAURP
Secretary
Dr. Sinha is board-certified internist and serves as the Vice President and Chief Medical Officer of the BJC Medical Group in St. Louis, MO. His vast experience includes former leadership, quality, and patient safety positions with ChenMed, Bon Secours Health System, Pfizer, the Centers for Medicare & Medicaid Services (CMS), and the Department of Veterans Affairs. In addition to his role as Secretary, Dr. Sinha also serves on several ABQAURP committees and is Chair of the CME Committee.
David L. Fishman, MD, FACC, FSCAI, FACP, FCCP, FAHA, CHCQM-PHYADV, FABQAURP
Treasurer
Dr. Fishman is a Chicago, Illinois-based board-certified internist and interventional cardiologist and physician advisor. He is a long-time member (including former officer and board member) of the Illinois Chapter of the American College of Cardiology (ACC), advancing a platform of advocacy and education while seeking to limit the progression of restrictive legislation regarding patient's access to cardiologists and physician reimbursement issues. Dr. Fishman has vast experience in hospital governance and holds numerous designations and certifications that place him at the top of his medical specialty. An ABQAURP Diplomate since 1993, he has served on the Board of Directors since 2005.
For full bios and to read about all of ABQAURP's distinguished Board of Directors, view the Board webpage at: https://www.abqaurp.org/ABQMain/Board_of_Directors.aspx.
About ABQAURP
Established in 1977, the American Board of Quality Assurance and Utilization Review Physicians, Inc. (ABQAURP) is an international membership association comprised of interdisciplinary health care professionals. ABQAURP is committed to maximizing patient safety and the quality of health care provided to the public by maintaining a culture of educational and certification excellence and making it available to all health care professionals. Visit: http://www.abqaurp.org for more information.