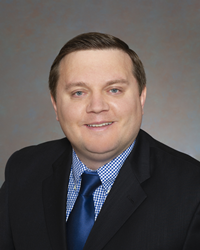 I am truly honored and grateful to accept this award on behalf of the many individuals involved in this work…They deserve the recognition and are the true heroes.
NEW PORT RICHEY, Fla. (PRWEB) January 28, 2021
The American Board of Quality Assurance & Utilization Review Physicians is pleased to announce the selection of Benjamin N. Kartchner, MD, CHCQM-PHYADV as the recipient of the 2021 CHCQM Diplomate Achievement Award.
Congratulations to Dr. Kartchner whose submission successfully demonstrated all of the award criteria: sustainable change in quality management, measurable improvement in patient safety, and provider engagement on a large scale. The project clearly embodies the health care quality and management and patient safety principles ABQAURP was looking for in the award selection process.
Some of the most vulnerable individuals combating the SARS CoV2 pandemic are those residing in long-term care facilities. In late spring 2020, it was estimated that over one-third of the total deaths were individuals residing in these communities.
Leaders from MultiCare Health System in Spokane, Washington, including Deaconess Hospital and Rockwood Medical Group, instituted "drop teams" to mitigate risk to this population by developing surge plans. Dr. Kartchner's hospital experience drove him to press leadership into expanding the project to all of the long-term care/skilled nursing facilities (LTC/SNF) in the area as well as other health systems in the region. After discussing the project with Spokane Regional Health Department (SRHD) and the Department of Health (DOH), the idea was presented to all three healthcare organizations and 16 regional SNFs. This regional collaboration not only resulted in the development of regional drop teams discussed below, but weekly regional meetings between the healthcare systems, DOH, SRHD, Department of Social and Health Services (DSHS), Regional Emergency and Disaster Healthcare Coalition (REDI), LTC/SNF administrators, and care management leadership from all the involved organizations.
Each healthcare organization was tasked with obtaining an inventory of their needs, including PPE supply, staffing issues, bed availability, ability to treat COVID-19 patients, and others. Information was updated daily by care management into a spreadsheet. The process of collating this information led to development of the WaTRAC project discussed below.
Drop teams consisted of an infection preventionist, social worker, and several primary care physicians rotating on a call schedule. Instead of furloughing, physicians were divided into SNF or hospitalist surge teams. Outpatient leaders assisted with operational planning, resource allocation, and call schedules. Other providers continued virtual visits. As evidenced in other cities, the group was preparing to be overwhelmed, and the goal was to support these facilities in concert with their medical directors. That large surge never happened, so the team pivoted from disaster management to large-scale prevention and was expanded to cover assisted and independent living homes.
Due to the partnership with local and state health departments, drop teams were deployed when a facility was deemed "at risk." By back-tracking infections, teams were able to deploy to facilities that did not have any known infections but had either infected or exposed employees. The goal to stamp out the virus before spread was possible. Teams were deployed to a total of 11 facilities over 16 separate visits, some facilities requiring ongoing repeat visits. Teams were able to assist other "at risk" places such as the Ronald McDonald House.
The project was hugely successful. During the time the drop teams were in place, there were only six reported deaths attributed to post-acute care and a total of 87 infections in a region of more than half a million people. What is even more impressive is that only 26 positive cases and no deaths were reported outside of a single facility that had difficulty containing an outbreak. This is not to say there were not any infections as positive cases were noted in all of the 11 facilities visited; however, drop team deployment successfully prevented spread. For perspective, a smaller city in southeastern Washington had comparable total deaths to Spokane, but in contrast, 37 of 50 were residents of LTC facilities, and nearly a third of their total infections involved LTC/SNF residents. These numbers are consistent with what has been seen around the country. In each outbreak situation, staff testing was critical to source control and standard screening mechanisms for symptoms had not been adequate.
Teams continue to provide infection prevention consultation and have maintained weekly regional meetings with care management and hospital leaders to discuss throughput issues, assess COVID numbers, and work together to resolve issues. This led to the development of a weekly meeting that involves SNF administrators, DOH, DSHS, hospital care management, hospital leaders, and SNF medical directors. These meetings have allowed acute care hospitals to see SNF issues and vice versa, issues to be raised to regulatory bodies, specific guidance to be given, and concerns to be raised to the state level as needed.
As mentioned, a spreadsheet was used to collate SNF bed availability; data collection required multiple phone calls from multiple hospital case managers. Via the relationships developed above, Dr. Kartchner was able to escalate the lack of data visibility to the Regional Emergency and Disaster Healthcare Coalition that manages the WaTrac program. WaTrac is a web-based platform that tracks acute care hospital bed availability at regional and state levels. A pilot project was just completed to expand WaTrac to SNF bed availability, COVID outbreaks, and diversion status making information that was previously available only via the communal spreadsheet, available on the WaTrac website. It was unanimously voted for wholesale adoption in the region with discussion to expand statewide. Access will be free and assist with capacity management; no other state is known to have a similar public coordinated effort (most systems are fee based and fragmented).
The project has been recognized by local newspapers, the governor of Washington, and regional Veterans Affairs leadership. It was recently awarded the Washington State Hospital Association Community Leadership Award for 2020 and is a finalist for the MultiCare Presidential Award. ABQAURP is pleased to join these organizations in recognizing Dr. Kartchner's initiative as the winner of the 2021 CHCQM Diplomate Achievement Award.
In acceptance of the Award, Dr. Kartchner states, "I am truly honored and grateful to accept this award on behalf of the many individuals involved in this work. The project included representation from multiple departments, government agencies, inpatient and outpatient staff and leadership many of whom stepped outside their normal roles to serve the citizens of the Spokane region. Many of these individuals put their own risks aside and ran towards danger to make sure a vulnerable population was protected. They deserve the recognition and are true heroes."
ABQAURP extends a sincere Thank You to Dr. Kartchner, his team, and all those who submitted outstanding achievements in quality and patient safety that have led to improvement, positive outcomes, and the advancement of Health Care Quality Management and Patient Safety.
Join us at the 2021 Annual Health Care Quality & Patient Safety Conference to hear more and to congratulate Dr. Kartchner and celebrate all of our Diplomate's achievements. For more event information, please visit: https://www.abqaurp.org/AnnualConference.
About Benjamin N. Kartchner, MD, CHCQM-PHYADV
Medical Director of Utilization Management – INW Regions, MultiCare Health System
Dr. Benjamin Kartchner is a board-certified Family Medicine physician; HCQM-certified by ABQAURP in 2019. After practicing hospital medicine full-time in Northern Idaho and beginning his work as a physician advisor, he transitioned to a physician advisor role for MultiCare Health System in Spokane, Washington. This being a new role for MultiCare, he is involved in multiple facets of physician advisor work including utilization management, care management, CDI, and population health. He is currently the chair of the utilization management committee at two hospitals and former chair of the Department of Family Medicine. He continues to practice part-time hospital medicine and is involved in educating student and resident physicians. He is a graduate of Brigham Young University and the University of Colorado School of Medicine prior to completing residency at Grant Medical Center in Columbus, Ohio. He lives in Coeur d'Alene, Idaho on five acres with his wife and three children. Being a "hockey family," his self-described greatest accomplishment is building a 60x30 foot hockey rink on the property.
About ABQAURP
Celebrating the 44th year of excellence in Health Care Quality Management and Patient Safety, ABQAURP is a premier professional association providing Health Care Quality and Management (HCQM) certification, ACCME-accredited continuing medical education, and membership to health care professionals worldwide.
Learn more at: https://www.abqaurp.org.