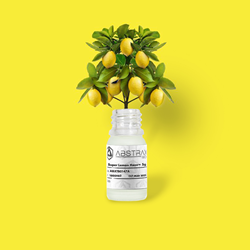 Sharing the largest catalog of All Botanically Derived Terpene Blends in the industry, allowing multi-state operators (MSOs) to buy all natural terpene flavorings for their vape pens and other product lines that are compliant with the strictest cannabis state regulations.
IRVINE, Calif. (PRWEB) May 04, 2020
ABSTRAX, a leader in the research and manufacturing of cannabis flavors, aromas and terpenes, is thrilled to share the largest catalog of All Botanically Derived Terpene Blends in the industry, allowing multi-state operators (MSOs) to buy all natural terpene flavorings for their vape pens and other product lines that are compliant with the strictest cannabis state regulations. While ABSTRAX has always offered all-natural terpene blends historically, its increased quantity of wholesome flavor options and strain specific proflies are especially important to vape companies looking to reassure consumers in the wake of the Great Vape Scare.
"Thankfully, we can empower cannabis companies to create sustainable consumer packaged goods that are botanically extracted, more consistent, and deliver a vastly more predictable and enjoyable experience by utilizing our Natural Terpene Collection. We are ensuring the highest quality standards are met," says Max Koby, Founding Partner and Chief Executive Officer of ABSTRAX. "All natural, botanically derived, ultra-purified and solvent less terpenes used for flavor, like ours, are a safer alternative and help brands to build consumer trust."
ABSTRAX's Natural Terpene Collection utilizes more than 200 botanically-derived terpenes and aroma compounds extracted from the essential oils of powerful sources like citrus fruits, cinnamon, black pepper, pine trees, basil, mangoes, and hops to create dynamic, aromatic flavors like Gelato, Pineapple Orange, Strawberry Cheesecake, Blue Dream, Mimosa, and more.
"Our extensive collection is bringing new functional flavor formulations to an industry that has been trying to recover from some tough moments in 2019. In the wake of EVOLI, state regulators and consumers want natural products and we're able to work closely with cannabis and hemp brands as they are seeking to offer high-quality products to their customers. It's an exciting time for everyone," says Koby.
This is extremely important as a growing number of vape users were buying black-market vape products, and even some legal products, that contained potentially harmful additives like Vitamin E Acetate, Polyethylene Glycol (PEG), and Medium Chain Triglycerides (MCT Oil) that some states are beginning to ban. ABSTRAX's terpenes have always been completely free from all of these additives, tested, and ultra-distilled to increase purity. Every formulation is developed from our research of natural plant compounds utilizing only ingredients that are natively found in cannabis or additionally studied for safety and efficacy.
Massachusetts, California, Nevada, Michigan, Montana, New York, Oregon, Rhode Island, Utah, and Washington are all going to great lengths to implement stricter regulations where the manufacturing and use of vape products are concerned. In some states they require all natural formulations to contain only ingredients natively found in cannabis. ABSTRAX has invested a lot in researching cannabis and developing the most complex library of compliant cannabis flavors.
"By developing and offering the most extensive collection of all-natural terpene flavoring for vape pens on the market, we're using the power of nature to make sure consumers can enjoy the benefits of cannabis while making sure they're choosing the purest and safest ingredients available today," says Koby.
About ABSTRAX
Leveraging its proven background in cannabis research, ABSTRAX specializes in the research, development, and manufacturing of cannabis flavor & aroma terpene formulations that create unforgettable sensorial experiences. Headquartered in California, the company owns and operates a state-of-the-art type 7 licensed research and manufacturing lab where it's award-winning product developers and scientists leverage the most advanced strain analysis technology to extract and study aroma compounds via three-dimensional analysis, allowing for each and every compound within a plant to be named and studied. The company has partnered with many of the best cultivators in the industry to study their cannabis profiles and create the world's most advanced terpene formulations. As a result of its efforts, ABSTRAX offers the largest terpene catalogue of the most popular strains - botanically-derived terpene blends and isolates native to cannabis. These ingredients, also known as functional flavors and aromas, are used in vapes, concentrates, edibles, beer, essential oils, fragrances, cosmetics, topicals, tinctures, alcohol, food and beverage, personal care, and more. The company works with internationally recognized brands and provides unparalleled cannabis research, innovation, and custom formulations to create products that engage and thrill consumers. The company's scientific approach focuses on mapping the terrain of terpene functionality to create predictable and repeatble product experiences that build consumer trust in cannabis products. ABSTRAX also devotes significant resources to developing the highest terpene standards and best practices in the industry. The company has developed a robust quality management system including Gas Chromatography analysis and molecular distillation of natural ingredients to achieve the highest purity standards. Investigating and ensuring that ingredients used in its own products, and products within its industry, are safe for consumption. The terpene industry is a rapidly growing segment of the global flavor and fragrance market, which is expected to grow to $35 billion by 2024. This market segment includes the cannabis, CBD, skincare, cosmetics, health and wellness, food and beverage industries. For more information, visit AbstraxTech.com.