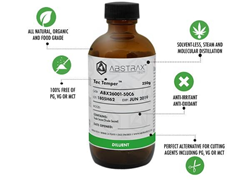 "ABSTRAX has been proving that Tec Temper is a more effective diluent. Alternatives like MCT Oil, Propylene Glycol, and Vitamin E Acetate produce dangerous byproducts when heated..."
IRVINE, Calif. (PRWEB) October 07, 2020
ABSTRAX, an industry leader in the study and production of cannabis and botanically-derived terpenes, has announced that its premium liquefier Tec Temper is now officially a better, potentially safer alternative to coconut and MCT oils, which research has identified MCT oils as potentially dangerous during the vaping process.
"Through our extensive research surrounding vape liquefiers, ABSTRAX has been proving that Tec Temper is a more effective diluent. Alternatives like MCT Oil, Propylene Glycol, and Vitamin E Acetate produce dangerous byproducts when heated, while also having pronounced effects and residual flavors that make the vaping experience less than enjoyable. Additionally, Propylene Glycol is terrible for solubilizing CBD and can lead to crystallization of CBD when the project is prepared at a comparable dose to Tec Temper," says Max Koby, CEO of ABSTRAX.
Tec Temper is naturally infused with tasteless terpenes that make blending CBD product formulations smooth and highly stable in comparison to other cutting agents. It allows for product formulators to take complete control and convert their viscous products into free-flowing oils that look, smell, and taste exactly as intended.
Tec Temper's main advantage over MCT oil is its ability to prevent CBD crystallization at higher concentrations. For example, when using Tec Temper as a diluent, CBD concentrations can reach as high as 50 percent without the crystallization of CBD, whereas MCT oil has a maximum CBD concentration of 40 percent.
Recent research found that Vitamin E Acetate (VEA), Vitamin E (VE) and MCT Oil (MCT) are all quite large molecules and have been associated with lipid pneumonia, whereas Tec Temper contains only terpenes and molecules that are much smaller than that of VEA/VE/MCT. Throughout the study, Tec Temper did not form any alarming degradation products like VE/VEA did (these include durohydroquinone and duroquinone which are both toxic to humans, (see ABSTRAX and University of California, Riverside press release). Furthermore, ABSTRAX is actively conducting research into the common diluents used in vaporizer devices to determine what is the safest/least dangerous option available. As more research becomes available, we will continue to share it with the public so everybody can continue to develop and consume the safest products available.
"Whatever extraction methods a brand uses for winterized products — including alcohol, CO2, and hydrocarbon — they can be certain Tec Temper mixes cleanly and smoothly. It also gives the industry complete control of everything from viscosity, to color, to flavor, and aroma and works well with both THC and CBD products," says Koby.
Tec Temper does not contain any unnecessary additives or additional diluent/liquefier like:
Propylene Glycol (PG)
Vegetable Glycerin (VG)
Medium Chain Triglycerides (MCT)
Coconut Oil
Solvents (eg. Ethanol)
Vitamin E Acetate or Vitamin E
THC or CBD
Tec Temper's boiling point is 294 degrees and doesn't have the noticeably pronounced aroma and flavor effects of some MCT oils when vaped.
"The question many companies ask is, 'Will cheap MCT oil do the trick, or will it not blend together properly? How can we guarantee that we're getting the same quality in every batch?' It just takes a small amount of Tec Temper to be certain you're going to have high stability relative to alternate cutting agents," says Koby.
Additionally, ABSTRAX products are exceedingly different from numerous others on the market because the company is committed to using natural botanical specimens at the highest quality. Tec Temper and all ABSTRAX blends are formulated with top-quality food grade ingredients and customers can be confident they are making the best choice possible when adding it to their products.
About ABSTRAX
Leveraging its proven background in cannabis research, ABSTRAX is the leader in the research, development, and production of botanically-derived and cannabis-inspired terpenes that create unforgettable sensorial experiences. Headquartered in California, the company owns and operates a state-of-the-art type 7 licensed research and manufacturing lab where it's award-winning product developers and scientists leverage the most advanced strain analysis technology to extract and study aroma compounds via three-dimensional analysis, allowing for each and every compound within a plant to be named and studied. The company has partnered with many of the best cultivators in the industry to study their cannabis profiles and create the world's most advanced terpene formulations. As a result of its efforts, ABSTRAX offers the largest terpene catalogue of the most popular strains - botanically-derived terpene blends and isolates native to cannabis. These ingredients, also known as functional flavors and aromas, are used in vapes, concentrates, edibles, beer, essential oils, fragrances, cosmetics, topicals, tinctures, alcohol, food and beverage, personal care, and more. The company works with internationally recognized brands and provides unparalleled cannabis research, innovation, and custom formulations to create products that engage and thrill consumers. ABSTRAX also devotes significant resources to developing the highest terpene standards and best practices in the industry. The company has developed a robust quality management system including Gas Chromatography analysis and molecular distillation of natural ingredients to achieve the highest purity standards. Investigating and ensuring that ingredients used in its own products, and products within its industry, are safe for consumption. The terpene industry is a rapidly growing segment of the global flavor and fragrance market, which is expected to grow to $35 billion by 2024. This market segment includes the cannabis, CBD, skincare, cosmetics, health and wellness, food and beverage industries. For more information, visit AbstraxTech.com.