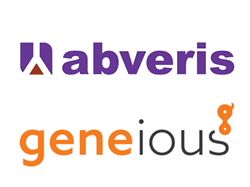 AUCKLAND, New Zealand (PRWEB) June 12, 2019
With a rapidly growing customer base and a wide range of antibody discovery services, Abveris plans to leverage the Geneious Biologics platform as a premium hub for bioinformatics and computer programming capabilities.
Dr. Colby Souders, Chief Technology Officer at Abveris, says: "The Geneious team has done an excellent job accommodating our specific data, resulting in a streamlined, high-throughput workflow that produces accurate data and operates efficiently without the need to integrate multiple bioinformatics platforms. We look forward to continuously improving the platform and its integration into our workflow to combine sequence analytics with metadata and assay data to accelerate candidate selection."
The Geneious team worked closely with Abveris to optimize and enhance the handling of their antibody NGS data. Jannick Bendtsen, VP Technology Services at Geneious, says: "Abveris is at the cutting edge of antibody drug discovery; they are pushing the boundaries of science and technology. To have Colby and the team select Geneious Biologics is a great honor and a great compliment. We collaborated to integrate our Single Clone Antibody Annotator Pipeline and it now runs out of the box. It's all about speed and accuracy in the discovery process."
About Abveris
Abveris is a premium Boston-area contract research organization specializing in antibody discovery. Abveris partners with large and small biopharmaceutical companies to discover novel therapeutic products and critical reagent antibodies using diverse platforms, including the proprietary DiversimAb™ hyperimmune mouse technology and a variety of humanized mice. Additional information about Abveris is available at http://www.abveris.com.
About Geneious and Biomatters
Biomatters empowers its customers with software that transforms biological data into knowledge and actionable insights across the spectrum of biotechnology research and development, including drug discovery, protein engineering and advanced comparative analysis of DNA, RNA and protein sequences. Geneious solutions are created from a deep understanding of customer experience and turn the difficult into the intuitive and easy. That is why Geneious is trusted by over 4,000 companies, universities and institutes all over the globe. http://www.geneious.com