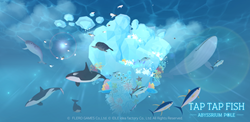 SEOUL, South Korea (PRWEB) October 16, 2019
Flero Games and Idle Idea Factory is proud to announce the next game in the Abyssrium series: Abyssrium Pole. Expanding on the concepts of the award-winning original, Abyssrium Pole invites players to create their own magical world on their Android and iOS smartphones in December, 2019.
Having won the Google Editor's Choice award in 2016 for Best Indie Games and earning over 5 million downloads over the past 3 years, Tap Tap Fish: Abyssrium serves as a strong foundation to build Abyssrium Pole.
Featuring low-poly graphics of the highest quality, Abyssrium Pole maintains the beautiful art style of the original. Players can enjoy a delightful convergence of ambient music, delicate sound effects and pristine graphics. Artists carefully craft each character with intricate detail, creating a stylized mirror image of our beloved natural world.
"We really love Tap Tap Fish: Abyssrium and we wanted to build upon it, and take our players to a brand new world," said Hyo-sik Kim, CEO of Idle Idea Factory. "We hope players will love Abyssrium Pole as much as the original, and hope to continue making games in this series and explore different ways to enjoy the Abyssrium franchise."
Abyssrium Pole is scheduled for a December release. Pre-registrations are ongoing on the Google Play Store (https://play.google.com/store/apps/details?id=com.idleif.abyssriump) and App Store (https://apps.apple.com/us/app/id1475211290), with regular updates regarding the release to be posted on the Facebook page (https://www.facebook.com/Tap-Tap-Fish-Abyssrium-Pole-122807365781567).