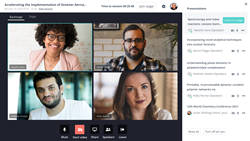 BERLIN and WASHINGTON (PRWEB) September 24, 2020
Morressier, the technology company dedicated to bringing academic conferences into the digital age, today announced fall 2020 as its busiest-ever season, supporting more than a dozen conferences and their more than 50,000 projected attendees. This demonstrates the continued trend of academic organizations successfully pivoting to a virtual format and preserving critical scholarly exchange despite in-person restrictions.
New Morressier partners include the American Physical Society (for a selection of US regional meetings), the Society of Engineering Science (for its 2020 Technical Meeting), and the Prostate Cancer Foundation (for PCF 2020). Returning partners include the European Society of Neuroradiology, the World Congress on Controversies in Obstetrics and Gynecology and Infertility, and the Charleston Library Conference. These partners join the more than 200 other societies, institutions, and corporations across the world that engage with Morressier in order to meet the needs of academic conferences large and small.
Justus Weweler, Morressier Co-founder and Director of Key Accounts, said: "We are thrilled to support a number of new partners and deepen our collaboration with existing clients throughout this busy fall conference season. 2020 has been a challenging year for the scientific community and, in the absence of in-person events, we are proud to support the dissemination and critical exchange of conference content in a fully-virtual format."
The season kicks off next week with the SES Technical Meeting 2020 on September 29-October 1. Morressier is providing SES with an end-to-end virtual conference platform, including abstract management and poster submission, live-streamed concurrent sessions with engaging Q&A, and conference content publication and dissemination.
Dennis Kochmann, Co-Chair of the SES Technical Meeting, explained their decision to host their meeting virtually with Morressier: "As Covid-19 led to all in-person conferences being canceled, we wanted to serve the SES community by providing an online platform for the presentation of topical research and exchange of ideas, to promote career development, and to honor our distinguished award winners."
Morressier confirms an even busier spring awaits, and is hard at work on new ways to support the scholarly community, including enhanced networking, engagement, and sponsorship features designed to further enhance the virtual conference experience.